Show Drawn
10 Years of Drawing Concerts with Brian Butler
April 22 - May 31
Opening Reception:
Thursday, April 25, 5-7 p.m.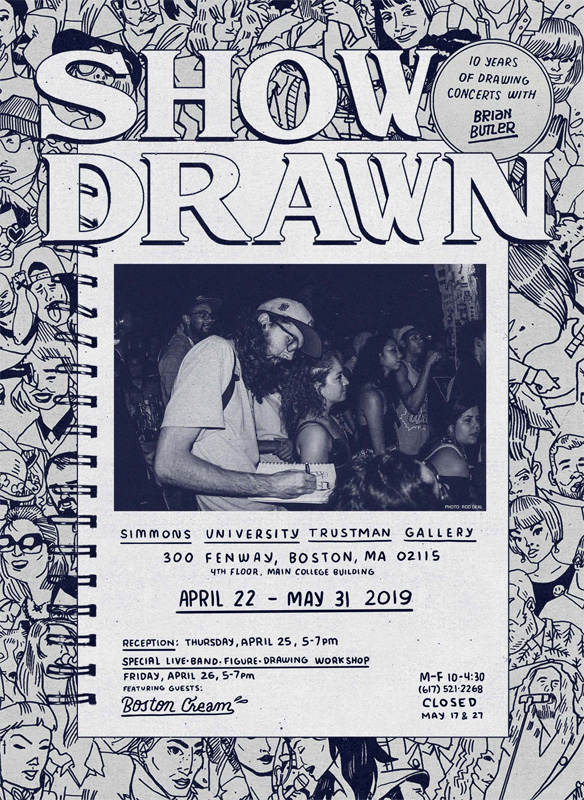 ---
Special Live Band-Figure Drawing Workshop featuring Boston Cream: Friday April 26, 5-7 p.m.
Simmons University presents Show Drawn, an exhibition that celebrates a decade of live concert drawing with over 200 prints of Brian Butler's unique and masterful drawings. Show Drawn will be on view from April 22 – May 31 in the Trustman Art Gallery, located on the fourth floor, Main College Building, 300 The Fenway in Boston.
Join us in the Gallery for an opening reception on Thursday, April 25, from 5 – 7pm. The Gallery will also host Brian and the band Boston Cream for a live-drawing workshop on Friday, March 26, from 5-7 pm. All Gallery events are free and open to the public.
Show Drawn began in 2008 at a Gwar concert when Brian identified concert drawing as the perfect pairing of two passions, music and drawing. Since then, his sketchbook has escorted him to well over 2,000 shows, performances, political rallies, events, marches, wrestling matches, festivals, conventions and more. While drawing conditions are ever-changing, two rules remain consistent: 1. The drawing begins upon arrival at the show, and 2. The drawing is complete by the end.
The Show Drawn sketchbook spreads contain bands representing all genres of music, snippets of overheard conversations and random stage chatter. In these drawings, you'll see the bands, of course, but what you'll really come away with is a sense of the scene – a true measure of the vibe. Listening to live music is great but it's the crowd that can make the show a truly memorable and special experience. These drawings feature roving bands of bros, the mosh pit contingent, wallflowers, animals, people dressed up as animals, people dressed up as fruit, extraterrestrials, scores of lovely ladies, drag queens, tats, piercings, crazy hair, profanity, insanity … a real slice of life. Expressions of communal love and peace are punctuated by moments of rowdiness that devolve into good-natured violence. Beers are tossed, punches thrown, but the show goes on and Brian documents it all, one sketchbook spread at a time.
From basement house shows and SXSW to Bonnaroo and Motorhead's Motorboat, Brian has been there and drawn that. See a band you like? Recognize a show you attended? Look closely and carefully … you may even find yourself amidst these drawings.
Brian Butler is a traveling artist best known for his mural work, Show Drawn illustrated event recaps, and diverse branding projects. He is a regular figure on the American festival circuit, drawing SXSW, Bonnaroo, Riot Fest, III Points, Pickathon and more. Before finding his place in music, he was a renowned miniature golf player, and amateur cryptozoologist. His obsessive interest in kitschy roadside culture led him across Massachusetts on an 87-stop tour of every miniature golf course in the state. His passion for the bizarre has also fueled a worldwide campaign advocating the existence of the half human, half ice cream hybrid, the Ice Cream Person.
Trustman Art Gallery hours are 10 AM – 4:30 PM, Monday, Tuesday, and Friday, 10 AM – 7 PM on Wednesday and Thursday. The gallery is free, open to the public and wheelchair accessible. For more information, contact Kyle Mendelsohn at (617) 521-2268 or find us on Instagram.