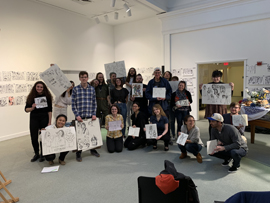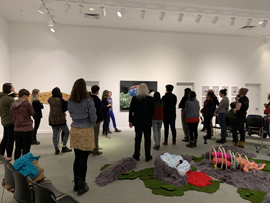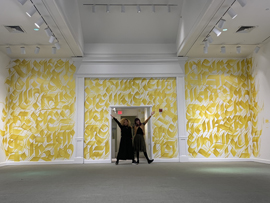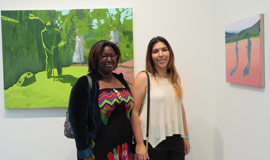 The Trustman Art Gallery completed its 37th exhibition season in the spring of 2019. It has become a well-recognized venue that is regularly reviewed in regional publications. Given in honor of Julia Myerson Trustman, '24, by her husband, Benjamin, the gallery exhibits the work of professional artists and has a yearly exhibition of student work from the Department of Art and Music.
Helen Popinchalk, Interim Gallery Director
Marcia Lomedico, Gallery Specialist and Special Events Coordinator
The Trustman Art Gallery
Main College Building, Fourth Floor
300 The Fenway, Boston, MA 02115-5898
617-521-2268
[email protected]
Exhibitions
Scheduled monthly from September to May.
Gallery Hours
Monday through Wednesday 10 a.m. – 4:30 p.m.
Thursday 10 a.m. – 7 p.m.
Friday 10 a.m. – 4:30 p.m.
Learn more about studying Art and Music at Simmons University »
---
Our mission is to present shows that act as kick-starters for the wider intellectual conversation possible within a university setting.
Learn more »
---
Interested in hosting an event at the Trustman Gallery?
Learn more and submit a request on the Event Request page » (Simmons login required)