Self And The Everywoman
Mixed Media Works By Claudia DeMonte
February 7 - March 18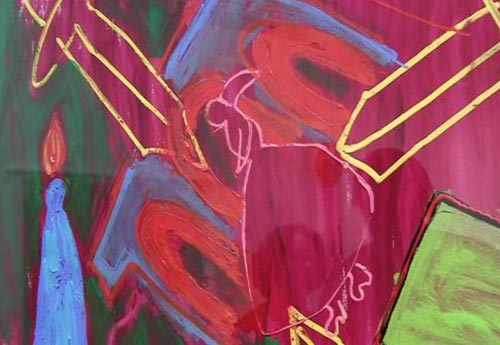 ---
Simmons University presents "Self and the Everywoman: Mixed Media Works by Claudia DeMonte," February 7 – March 18, at the Simmons University Trustman Art Gallery, fourth floor, Main College Building, 300 The Fenway, in Boston.
A reception and artist talk will be held Thursday, February 10, 5:00-7:00 p.m. The exhibit and reception are free and open to the public.
In her first Boston solo show spanning three decades, New York artist Claudia DeMonte employs photography, acrylic on canvas, pewter and wood, velvet paper cut-outs, painted gator board, and cast bronze to examine the role of women in contemporary society. Combining social commentary with humor and fantasy, this mixed media display references fashion and housework, Cycladic art and the classical tradition, the religious and the secular. Though rooted in her own life experience and her Catholic upbringing, DeMonte's art moves beyond a narcissistic self-examination to address universal female themes: woman as nurturer, goddess, and domestic worker. Trustman Art Gallery Director Michele Cohen noted that "DeMonte's work probes issues central to feminism using a vocabulary that resonates with Simmons students today," helping to bridge a generational divide.
DeMonte has had more than 60 solo exhibitions and hundreds of group exhibitions nationally and internationally, including exhibitions at the Corcoran Museum of Art, Ft. Worth Museum, Mississippi Museum, and the Indianapolis Museum. Her work is in numerous permanent collections including the Museum of Modern Art, the Indianapolis Museum, the Brooklyn Museum, the Queens Museum, Boca Raton Museum, and the Corcoran Museum. DeMonte's work is also in many corporate collections, including Prudential Life Insurance, Exxon, Hyatt Regency Hotels, Twentieth Century Fund, and Citibank. She has completed large scale public commissions for Prudential Life Insurance, the NYC School Construction Authority, and the Brooklyn Public Library System.
For 33 years, DeMonte served on the faculty of the University of Maryland, where she was named Distinguished Scholar Teacher and Professor Emerita. In 2006, she received an Honorary Doctorate from the College of Santa Fe. DeMonte currently resides in New York City and Kent, Connecticut.
Trustman Art Gallery hours are 10 AM – 4:30 PM, Monday, Tuesday, and Friday, 10 AM – 7 PM on Wednesday and Thursday. The gallery is free, open to the public and wheelchair accessible. For more information, contact Kyle Mendelsohn at (617) 521-2268 or find us on Instagram.