Rumble at the Media Mash-Up
FIVE ARTISTS BREAK OUT
November 15-December 15
Opening Reception:
November 17, 5-7 PM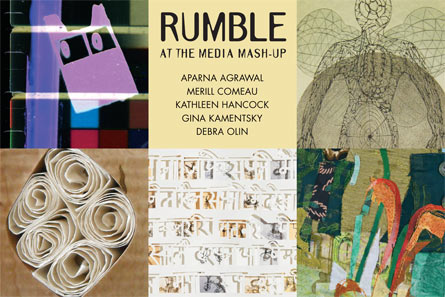 ---
Simmons University presents Rumble at the Media Mash-Up November 15 -December 15, at the Trustman Art Gallery, fourth floor, Main College Building, 300 the Fenway in Boston. A reception will be held on Thursday, November 17 from 5:00-7:00 pm. The exhibit and reception are free and open to the public.
The Trustman is pleased to present a group show of artists whose risk taking and nontraditional handling of their media is akin to the evolutionary imperative of biological systems. The show will include sculptural books by Kathleen Hancock, fragmented textiles by Merill Comeau, human-scaled prints by Debra Olin, direct animation by Gina Kamentsky, and objects and sound by Aparna Agrawal. These five artists shake up ordinary ways of viewing their media.
Although a diverse set of media, all the artists share a fierce sense of exploration in their work. Interim Gallery Director B. Lynch, said, "What attracted me to these works were their sense of fearlessness. Each of these artists has technical control over their media to a highly polished degree, but they aren't content to sit back on their laurels. These artists are willing to re-contextualize their chosen framework, and in so doing, create a new way for the viewer to engage with the form."
Trustman Art Gallery hours are 10 AM – 4:30 PM, Monday, Tuesday, and Friday, 10 AM – 7 PM on Wednesday and Thursday. The gallery is free, open to the public and wheelchair accessible. For more information, contact Kyle Mendelsohn at (617) 521-2268 or find us on Instagram.