Places For The Spirit: Traditional African American Gardens
Photographs by Vaughn Sills
March 21 - April 22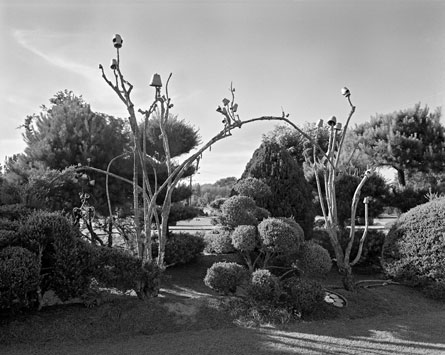 ---
Simmons University presents "Places of the Spirit: Traditional African American Gardens," photographs by Vaughn Sills, March 21- April 22 at the Simmons University Trustman Art Gallery, fourth floor, Main College Building, 300 The Fenway, in Boston.
A book signing and artist talk will be held on Thursday, March 24, from 5-7 p.m. The exhibit and reception are free and open to the public.
The Trustman exhibition features a selection of landscapes and portraits from Sills's new book, Places for the Spirit: Traditional African American Gardens, published by Trinity University Press with a foreword by Hilton Als. The culmination of 20 years of searching, observing, and photographing, Sills's large and medium format black and white images reveal beauty in the ordinary. They translate a deep spirituality expressed in talismanic objects, repurposed detritus, and cultivated plants into shades of dark and light. Sills explains, "These gardens speak a certain language — a language, I'm convinced, that is about the earth, about beauty, and about spirit." Drawing our eye to certain details and perspectives, Sills's photographs invite us to enter the gardener's private world — both prosaic and transcendent. As a body of work, these quiet but powerful images speak to cultural displacement and reconstitution.
In a non-didactic way, the images illustrate beliefs and practices brought to the United States by enslaved Africans more than 200 years ago. The gardens contain hollow pipes that allow the spirits of ancestors to communicate with us, inverted vessels to trap harmful spirits, protective borders, and circular forms reminding us of human progress and the cycles of nature. As a collection, the images preserve a part of African American culture that has fast been disappearing from the American south.
Sills is an associate professor of photography at Simmons University, where she has taught since 1993. Her work has been included in more than 40 group and solo exhibitions at galleries and museums, including the Danforth Museum, Framingham, MA; the DeCordova Museum in Lincoln, MA; and the Whitney Museum of American Art at Equitable Center, New York, NY.
She is the recipient of numerous honors and awards, including fellowships from the Massachusetts Cultural Council, the Polaroid Foundation, and the Artadia Fund for Art and Dialogue. Currently represented by Miller Block Gallery in Boston and the Davis Orton Gallery in Hudson, NY, Sills will have a solo exhibition in 2012 at the Gibbes Museum of Art, Charleston, SC.
Trustman Art Gallery hours are 10 AM – 4:30 PM, Monday, Tuesday, and Friday, 10 AM – 7 PM on Wednesday and Thursday. The gallery is free, open to the public and wheelchair accessible. For more information, contact Kyle Mendelsohn at (617) 521-2268 or find us on Instagram.