Collateral Damage
Drawings and Installation by Linda Bond
October 11-November 10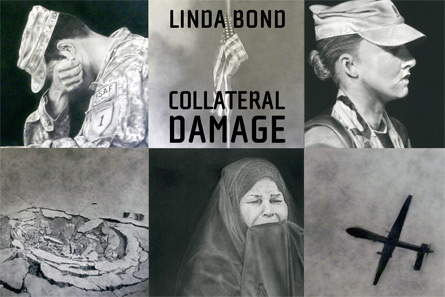 ---
Simmons University presents "Collateral Damage: Drawings and Installation" by Linda Bond, from Oct. 11– Nov, 10 at the Simmons University Trustman Art Gallery, fourth floor, Main College Building, 300 The Fenway, in Boston. A reception and gallery talk will be held Thursday, Oct.13 from 5–7 p.m. The exhibit and reception are free and open to the public.
Ten years subsequent to 9/11, the American people have experienced emotions ranging from sadness, patriotism, courage, empathy, commitment to help others be self-governing, xenophobia, war-weariness and detachment. For the past decade, Bond has documented the various ways the media has presented these conflicts to the American public. Her working style is particularly apt for her subject matter as she most usually chooses a small, indistinct image from a print source and further extrapolates this into a fully detailed work. Her medium for her striking large-scale black and white drawings consists of gunpowder and graphite.
Curated by B. Lynch, Interim Gallery Director, "Collateral Damage" will specifically highlight the artist's portrayal of women involved in contemporary conflict, and will include both Bond's gunpowder and graphite drawings and a series of smaller watercolors completed in 2008. The watercolors unflinchingly study the scarred faces of women mutilated by acid attacks, giving voice to those who have none. Shown alongside Bond's depictions of mothers and soldiers, both American and Iraqi, this series underscores the correspondence that exists between all acts of violence — the organized violence of war as well as violent acts of abuse or vengeance. Bond's work displays compassion for all players over the past ten years.
Also on view will be the interactive installation project, "Inventory," cataloging the documented 190,000 lost U.S. weapons in Iraq. A beautifully drawn postcard representation of the various weapon types is available for visitors to the Trustman Gallery to take away with them. The re-enacting viewer may keep or pass along the inventory cards, mimicking the pathway of the actual weapons. The stacks of inventory cards physically denote the sheer numbers of lost weapons.
Trustman Art Gallery hours are 10 AM – 4:30 PM, Monday, Tuesday, and Friday, 10 AM – 7 PM on Wednesday and Thursday. The gallery is free, open to the public and wheelchair accessible. For more information, contact Kyle Mendelsohn at (617) 521-2268 or find us on Instagram.