Unconditional Yes: Robyn Love
A Collaborative Mixed-Media Installation and Performance by Robyn Love
March 22 - April 16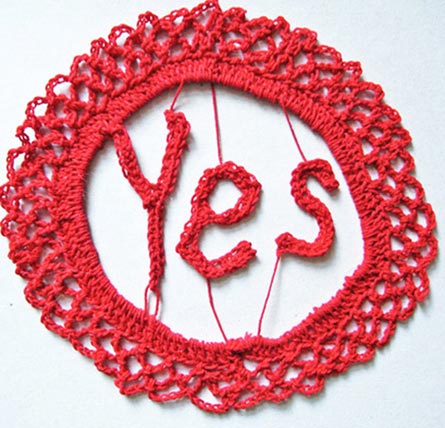 ---
Simmons University presents "Unconditional Yes," a mixed-media installation and performance undertaken by artist Robyn Love in collaboration with Simmons University, March 22 – April 16, at the Simmons University Trustman Art Gallery, fourth floor, Main College Building, 300 The Fenway, in Boston.
An opening reception will be held on Thursday, March 25, 4:30-6:30 p.m., featuring the Simmons Concert Choir at 6:00 p.m., followed by a closing reception on April 15, 4:30 – 6:30 p.m. The exhibit and receptions are free and open to the public.
In this mixed-media installation undertaken in collaboration with the Simmons community, artist Robyn Love seeks answers to the question, "Have you ever made a decision with an unconditional yes?" Combining Love's knitted and crocheted aphorisms with text, objects, and artwork contributed by faculty, staff, students, and alumnae, the exhibition is both and provocative and inclusive. In the Gallery's center, a temporary "living room" anchors the display and provides a quiet space for periodic knit-togethers, to be hosted by Love during the course of the installation. A knitted trail pieced together from communal donations leads visitors to the "living room."
Love explains, "I am hoping to encourage people to look a little deeper at some of their ideas about themselves.  I think if we really consider why we make our choices, we can take responsibility for them, and that gives us a lot of freedom.  Also, I hope that the process of creating this exhibition together will generate a renewed sense of community at Simmons."
Simmons Arts Administration majors collaborated with Love on many aspects of the project, suggesting the knitted trail (inspired by Love's The Knitted Mile), developing publicity, encouraging community participation, knitting, and creating and maintaining a blog and Facebook page.One Arts Administration student noted, "We wanted to have the trail be all different colors and textures, representing the diversity of Simmons as a whole."
Love, who grew up in New England, currently lives and works in New York City, where she earned her BFA from Cooper Union. She is best known for her collaborative projects that involve needlework on an ambitious scale, but her work has grown to include more ephemeral elements such as conversations at formal and informal gatherings as a way of generating ideas and exploring new perspectives on the community with which she works. Ongoing projects include The House Museum in Newfoundland, which is an examination of the impact of tourism on cultural heritage, and Knitting Sprawl, for which Love received a 2009 Canada Council for the Arts Grant.
Trustman Art Gallery hours are 10 AM – 4:30 PM, Monday, Tuesday, and Friday, 10 AM – 7 PM on Wednesday and Thursday. The gallery is free, open to the public and wheelchair accessible. For more information, contact Kyle Mendelsohn at (617) 521-2268 or find us on Instagram.