Riches
New Work by Ellen Rich and Matthew Rich
February 8 - March 18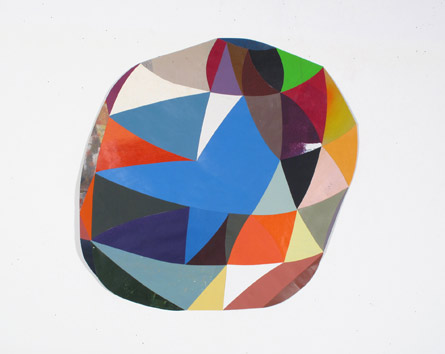 ---
Simmons University presents "Riches: New Work by Ellen Rich and Matthew Rich," Feb. 8 – March 18, at the Simmons University Trustman Art Gallery, fourth floor, Main College Building, 300 The Fenway, in Boston.
A reception with the artists will be held on Tuesday, Feb. 9, 5:00-7:00 p.m. In addition, the artists will give a gallery talk on Tuesday, March 16 at 5:30 p.m. The exhibit, reception and talk are free and open to the public.
In their joint exhibition at the Trustman, mother and son engage in a playful visual dialogue, each using a low-tech process and materials to examine the physicality of color and its relationship to form. Both artists are committed to abstraction and a process "that is organic and complex," creating work that falls between painting and sculpture. In a joint statement they explain, "While our work and our approach share many things, there is much that is different, and we have learned from this as well. We have supported, pushed and stretched each other in a deeply reciprocal manner. It is no accident that we have ended up like this."
Well-known in the Boston area for her abstract, buoyant constructions and paintings, Ellen Rich takes her work in a new direction, transforming painted paper collages into minimalist paper and wood wall constructions freed from the confines of a rectangular, flat surface. Matthew Rich also employs painting and cutting in his signature approach to art-making. His irregularly-shaped abstractions, pieced together from latex-coated papers that are cut and taped together, emphasize how they are made and minimize "the distinction between support, surface, and mark," explains the artist. Many of Rich's artworks fool the eye, suggesting three dimensions, while simultaneously insisting on flatness.
Over the last two decades, Ellen Rich, a graduate of the School of the Museum of Fine Arts, has been included regularly in group shows, most recently at the Nesto Gallery at Milton Academy, Bromfield Gallery, and the New England School of Art and Design. In 2006, her work was featured in a solo exhibition at the Genovese Sullivan Gallery.
In 2004, Matthew Rich obtained his MFA from the School of the Art Institute of Chicago and now teaches at Northeastern University. "Blind Spot," his show last February at devening projects + editions in Chicago was reviewed in the Summer 2009 issue of "Artforum." His recent one-person show at sams¿n was singled out as among Boston's 10 best art exhibitions of 2009 by the "Boston Globe."
Trustman Art Gallery hours are 10 AM – 4:30 PM, Monday, Tuesday, and Friday, 10 AM – 7 PM on Wednesday and Thursday. The gallery is free, open to the public and wheelchair accessible. For more information, contact Kyle Mendelsohn at (617) 521-2268 or find us on Instagram.