East Meets West
Paintings by Phyllis Berman
November 8 - December 10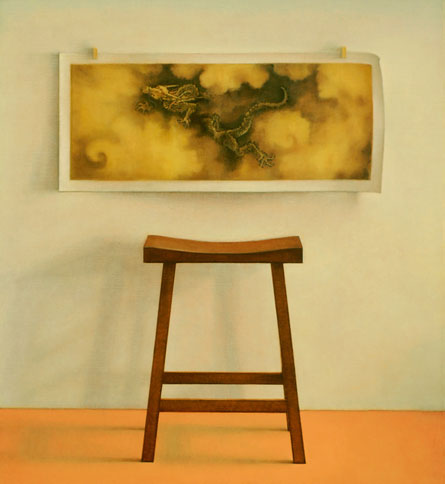 ---
Simmons University presents "East Meets West: Paintings by Phyllis Berman," November 8 – December 10 at the Simmons University Trustman Art Gallery, fourth floor, Main College Building, 300 The Fenway, in Boston.
There will be a reception and artist talk on Tuesday, November 9, from 5:00-6:30 p.m. The exhibit and reception are free and open to the public.
Curated by Gallery Director Michele Cohen, the exhibition charts a new course for Berman, who masterfully weds an Eastern and Western sensibility in her newest paintings. Fashioning a shallow stage-like space, Berman pays homage to Chen Rong's 13th century masterpiece, the Nine Dragons scroll, in the collection of the Museum of Fine Arts in Boston. Berman recreates sections of the scroll, tacking them on walls behind precisely rendered tables and bowls of fruit, layering one illusion over another. Employing her characteristic subtle palette and deft touch, Berman's simulated ancient Chinese scroll alternates between art and object.
"These paintings are part of an ongoing series of large-scale still life paintings, a motif I have been working on since 1984," Berman explains. "Early in my career, I moved toward a structure that would define my work: frontal compositions that balance abstract design with crisply modeled forms in a circumscribed space."
Berman earned her MFA at Boston University in 1975, where she studied with Philip Guston. She has exhibited regularly in group and solo shows in Boston-area galleries and museums, most recently at the Pepper Gallery in Boston and at Wheaton College. Berman's work has appeared in the New Britain Museum of American Art, New Britain, CT; the Art Complex Museum, Duxbury, MA; and the Rose Art Museum, Waltham, MA.
Berman has received a number of awards and honors, most notably several grants from the Pollock-Krasner Foundation, as well as awards from the National Endowment for the Arts, the MacDowell Colony, and the Bunting Institute of Radcliffe College. Her work is included in museum and corporate collections, including the New Britain Museum of American Art, which recently acquired one of her works; the Danforth Museum, Framingham, MA; the Art Complex Museum; Fidelity Investments; and Wellington Management, Boston.
Trustman Art Gallery hours are 10 AM – 4:30 PM, Monday, Tuesday, and Friday, 10 AM – 7 PM on Wednesday and Thursday. The gallery is free, open to the public and wheelchair accessible. For more information, contact Kyle Mendelsohn at (617) 521-2268 or find us on Instagram.