Today's Tomorrow
An Exhibition of Sculpture and Installation by June Ahrens
March 23 - April 17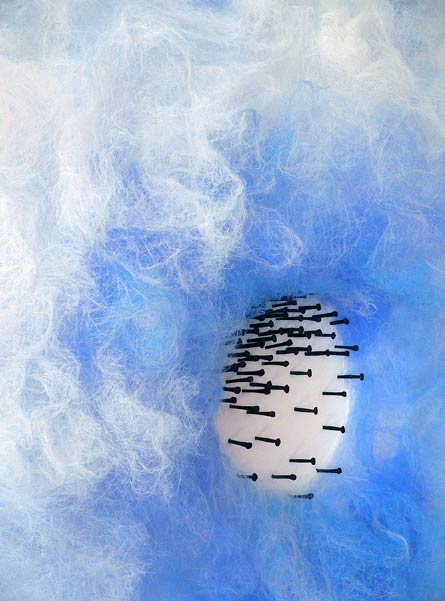 ---
Simmons University presents "Today's Tomorrow," an exhibition of sculpture and installation by June Ahrens, March 23-April 17, at the Simmons University Trustman Art Gallery, fourth floor, Main College Building, 300 The Fenway, in Boston.
A reception with the artist will be held on Monday, March 23 from 5:00-7:00 p.m. The exhibit and reception are free and open to the public.
Ahrens, a New York City-based artist, transforms common, often discarded material such as gauze, foam, screening, and soap into visual statements that evoke feelings of "loss, fragility, vulnerability, pain and, most of all, healing and survival," says Ahrens. The Trustman exhibit explores several of the artist's themes with a selection of work from 2003-2007. In both "Disruption" ('03) and "Beyond" ('04), Ahrens uses safety pins to provide texture and color to their circular formats. Her compulsive and repetitive use of material shifts to a more painterly approach toward sculpture in the atmospheric diptych "Today's Tomorrow" ('07), composed of felt, fiberglass and iron stakes. Ahrens transcends their material sources and communicates a provocative connection to the human experience.
Junes Ahrens has exhibited both nationally and internationally. The Trustman Art Gallery is hosting the artist's first Boston exhibition.
Trustman Art Gallery hours are 10 AM – 4:30 PM, Monday, Tuesday, and Friday, 10 AM – 7 PM on Wednesday and Thursday. The gallery is free, open to the public and wheelchair accessible. For more information, contact Kyle Mendelsohn at (617) 521-2268 or find us on Instagram.