The Urban Wild
An Exhibit of Paintings and Prints by Nancy Friese
April 21 - June 5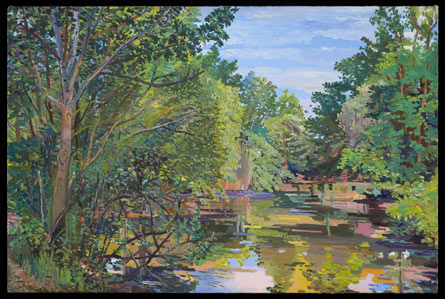 ---
Simmons University presents "The Urban Wild," paintings and prints by Nancy Friese, April 21-June 5, 2009 at the Simmons University Trustman Art Gallery, fourth floor, Main College Building, 300 The Fenway, in Boston.
A reception and gallery talk with the artist will be held on Thursday, April 23 from 5:00-7:00 p.m. The exhibit and reception are free and open to the public.
The proximity of Simmons University to the Fens and the Muddy River, a significant jewel in Frederick Law Olmstead's Emerald Necklace, is the source and inspiration for this collaboration between the landscape painter Nancy Friese and the Trustman Art Gallery. Working directly from observation, only a short distance from asphalt, concrete and brick, Friese captures Olmstead's wild neglected urban landscape with vibrant gestural paintings.
In the artist's words:
Landscape painting is a composite of things seen, remembered and felt. By studying nature's phenomena, I tie the visual observations to experience. With unpeopled views, scenes and vistas, one can enter a more philosophical, personal and timeless place. I grew up looking outward from the cliffs of the great lakes and the prairies of the northern plains. My world centered around nature and weather. Treetops, bays, rivers, forests, rocks, fields, and the human landscape edging these places fed my imagination. I remain in that world through the paintings and prints of nature close-at-hand.
– Nancy Friese
Friese completed this body of work from 2008 through 2009, including four paintings commissioned by Simmons with the support of the Artist's Resource Trust.
Nancy Friese is an internationally recognized plein air painter. She is a professor in the Department of Printmaking at the Rhode Island School of Design and has exhibited in venues as diverse as the Barbican Center in London and Tokyo's Metropolitan Museum of Art. She is the recipient of numerous residencies and fellowships including three from the National Endowment for the Arts. Her last solo exhibit in Boston was at the Pepper Gallery in 2006.
This project has been supported in part by the Berkshire Taconic Foundation A.R.T. Grant and RISD Professional Development Fund.
Trustman Art Gallery hours are 10 AM – 4:30 PM, Monday, Tuesday, and Friday, 10 AM – 7 PM on Wednesday and Thursday. The gallery is free, open to the public and wheelchair accessible. For more information, contact Kyle Mendelsohn at (617) 521-2268 or find us on Instagram.