Some Things The World Gave
A Show of Paintings by Jan Lhormer and Susan Schwalb
February 9 - March 19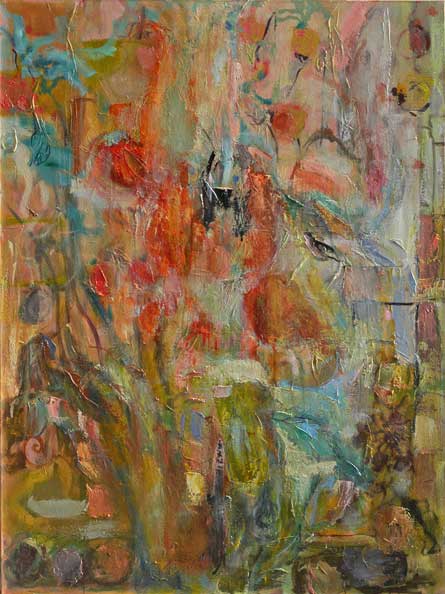 ---
Simmons University presents "Some Things the World Gave," a two-person exhibition of paintings by Jan Lhormer and Susan Schwalb, Feb. 9-March 19, at the Simmons University Trustman Art Gallery, fourth floor, Main College Building, 300 The Fenway, in Boston.
A reception with the artists will be held on Thursday, Feb. 12 from 5:00-7:00 p.m. The exhibit and reception are free and open to the public.
This exhibition brings together two artists who are engaged in divergent approaches to abstraction but who are inspired by their observation of landscape. While the focus of their work evolves from different historical perspectives and studio practices, their perception of light and of other elements in the natural world form a compelling dialogue.
Drawing from the Cape Cod landscape, Jan Lhormer uses lush layers of oil paint to create painterly abstraction of gardens and seascapes. Paintings such as "John's Tomato Garden" (2008) evoke the movement of organic plant material through Lhormer's gestural brushwork and drawing. Her ocean themes are marked by an allusion to the horizon line and a heightened spatial tension.
For many years Susan Schwalb has explored the Renaissance technique of silverpoint, challenging stereotypes of this medium by pushing toward a contemporary minimalist idiom. This exhibit includes paintings from the series "Palimpsest" and "After Image," titles which suggest Schwalb's process of layering several colors of acrylic paint, drawing with metalpoint then abrading the surface to exuviate the layers below. These metalpoint paintings reference the landscape through their structure of horizontal lines, color and luminosity. Two of Schwalb's recent multicolored lithographs also are included in "Some Things the World Gave."
Trustman Art Gallery hours are 10 AM – 4:30 PM, Monday, Tuesday, and Friday, 10 AM – 7 PM on Wednesday and Thursday. The gallery is free, open to the public and wheelchair accessible. For more information, contact Kyle Mendelsohn at (617) 521-2268 or find us on Instagram.