Regeneration and Transformation
Recent Drawings and Prints by Guhapriya Ranganathan
October 5 - October 30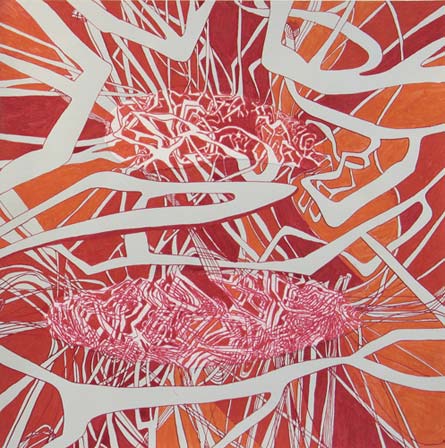 ---
Simmons University presents "Regeneration and Transformation: Recent Drawings and Prints by Guhapriya Ranganathan," Oct.5 – Oct. 30, at the Simmons University Trustman Art Gallery, fourth floor, Main College Building, 300 The Fenway, in Boston.
A reception and gallery talk with the artist will be held on Thursday, Oct. 8 from 4:30-6:30 p.m. The exhibit and reception are free and open to the public.
Ranganathan's work probes the links between spirituality and science, brain synapses and memory, and molecular biology and the cosmos. Completed this past year, the Trustman exhibition is the first major solo show of this emerging Boston artist.
"Regenerations" evolved from a series of earlier drawings and screenprints; it takes its name from the artist's working method of planting a "seed" from one piece to grow another. "Transformations" is a series of monotone prints in black and brown that evoke the cosmos. To create the effect of galaxies, Ranganathan burned dot patterns into wood printing blocks. The set of images constituting "Variations" present subtle differences in textures, hues, and color intensities. The exhibition also includes two large mixed media pieces that combine lush aqua and green pigment with sinuous lines suggesting DNA strands and nerve bundles, compositions that are both striking and mesmerizing.
Scientific inquiry and the artist's Hindu upbringing, a philosophy that stresses the interconnectedness of things, inform the work. Captivated by theories about mapping and memory postulated by authors such as Edward Casey and Merleau-Ponty, Ranganathan also tapped into her personal experiences. Reacting to her grandmother's confusion resulting from Alzheimer's and the death of a childhood friend from cancer, she delved into mapping and molecular biology. These provide the intellectual foundation for the work, but as Ranganathan explains, "a scientist looks for proof, but an artist can leap and make those connections."
Born in India, Ranganathan earned degrees in engineering and management before immigrating to the United States. A 2006 Simmons graduate, she completed her MFA in painting at the Massachusetts College of Art in 2008. She recently has been named the Artist-in-Residence at the Broad Institute in Cambridge, Mass.
Trustman Gallery hours are 10 a.m.- 4:30 p.m, Monday, Tuesday, Wednesday and Friday, 10 a.m.-7 p.m. on Thursday. The gallery is free, open to the public and wheelchair accessible. For more information, contact Doris Lin at 617-521-2268, find us on Facebook, and Instagram.