Nautical Body
An Exhibition of Sculptures, Photographs & Drawings by Christy Georg
August 31 - September 30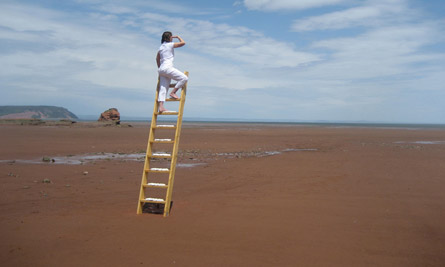 ---
Simmons University presents "Nautical Body," an exhibition of sculptures, photographs, and drawings, August 31–September 30, at the Simmons University Trustman Art Gallery, fourth floor, Main College Building, 300 The Fenway, in Boston.
A reception with the artist Christy Georg will be held on Thursday, Sept. 10, from 5:00–7:00 p.m., preceded by an artist talk and performance of the popular sea chantey "Cape Cod Girls." The exhibit, performance, and reception are free and open to the public.
In "Nautical Body," created for the Trustman Gallery, Georg, who is known for kinetic sound sculptures and sculptural apparatuses, has launched a new series that links art to maritime culture. Using materials and techniques familiar to sailors of yesteryear, Georg painstakingly knots rope and fashions witty sculptural objects that evoke Boston's seafaring origins. Georg explains, "I make sculptural instruments and devices that function either actually, or metaphorically. Often created for use in a specific location or inspired by a particular historical account, their meticulous craftsmanship lends them authority as functional objects, but upon inspection may seem quite absurd, fetishistic, alchemical, or otherwise baffling."
Having spent two summers living and working on a large sailing schooner and her own sailboat, Georg's mixed media installation provides multiple perspectives on a subject she literally immersed herself in. Supplemented by exhaustive research, Georg has found a way to wed an experiential, frequently ironic contemporary art sensibility with traditional maritime crafts, revealing beauty in utilitarian objects typically associated with 19th-century sailing vessels. Her elegant ovoid sculptures, "Giant Becket-Brooches," employ the labor-intensive process sailors used to fashion knotted rope handles for their wooden sea chests, while also elevating craft to art.
Since completing her MFA at the Massachusetts College of Art in 2003, Georg has exhibited widely and has been awarded twelve residencies. Her Fine Arts Work Center fellowship in Provincetown and residencies at Ross Creek in Nova Scotia, the Contemporary Artists Center in Troy, New York and SculptureSpace in Utica, New York, have provided vital support to create work featured in this solo show at the Trustman Gallery. Most recently, Georg won the Mellon Foundation's Blanche E. Colman award.
Trustman Art Gallery hours are 10 AM – 4:30 PM, Monday, Tuesday, and Friday, 10 AM – 7 PM on Wednesday and Thursday. The gallery is free, open to the public and wheelchair accessible. For more information, contact Kyle Mendelsohn at (617) 521-2268 or find us on Instagram.