The Human Animal Project
A Group Exhibition of 2-D and Time-Based Works Curated by Paul Roux
October 7 - November 4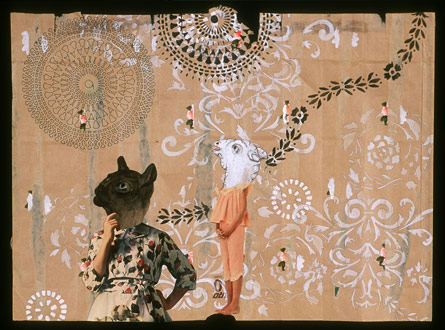 ---
Simmons University presents "The Human Animal Project," a group show of 2-D and time-based works by 14 artists from New England, New York, Chicago and South Africa, Oct. 7-Nov. 4, at the Simmons University Trustman Art Gallery, fourth floor, Main College Building, 300 The Fenway, in Boston.
There will be a reception featuring performances by Dera Leighton Collier and Alice Vogler on Thursday, Oct. 9, from 5:00-6:30 p.m. The exhibit and reception are free and open to the public.
Paul Roux was invited to curate this exhibition for the Trustman Art Gallery after Gallery Director Barbara O'Brien viewed "Mediating the Mediated Gaze," an exhibition that Roux curated and presented at the Museum of Fine Arts, Boston in 2007.
"Creating a group exhibition is a special challenge for a curator. I admired the range of images and ideas that Paul could pull together under a large theme. He brings to Simmons University a different cultural and aesthetic viewpoint than my own, which can only enrich the dialogue on our campus. Connecting the arts to the world of larger ideas is a goal that both Paul and I have in common and it suits perfectly the Simmons community," said O'Brien.
Roux received a B.A. from the University of Cape Town, South Africa, and completed studies in painting and video production at the School of the Museum of Fine Arts, Boston in 2007. Both paintings and video works including "An Apology to the Animal World," by Roux will be included in "The Human Animal Project."
Artists featured in "The Human Animal Project" include Brian Burkhardt, Boston; Dera Leighton Collier, Los Angeles; Araminta De Clermont, South Africa; Jesse Jagtiani, Boston; Faith Johnson, Boston; Hiroko Kikuchi, Boston; Jason Lazarus, Chicago; Cathy McLaurin, Lawrence, MA; Paul Roux, Los Angeles and South Africa; Ruth Sacks and Mary Scherer, Chicago; Alice Vogler, Boston; Amy Wilson, New Jersey; and Nicholas Wylie, Chicago.
Some highlights of "The Human Animal Project":
Fair Trade is an accordion-fold limited edition artist book by Amy Wilson, who lives in New Jersey and works in New York City. In Fair Trade young girls reach skyward to connect with floating and flying bird-and butterfly-like creatures flying through a sky filled with anarchistic text. Having earned her M.F.A from Yale University, Wilson has garnered considerable attention for her works, including an exhibition at The Warhol Museum.
Araminta De Clermont is a British photographer who lives and works in Cape Town. Four prints from the recent series titled Life After will be featured. Life After documents the cultural phenomena of ex-convicts who are tattooed members of the South African "Number" gang. The "self" and the "other" come into intimate dialogue in the direct gaze of the subjects in these powerful portraits.
Drawn and collaged hybrid creatures by Cathy McLaurin allow the magic of fairy and folk tales to meet the sometimes-troubling narrative of the 21st century. How near (or far?) are we as humans to our animal instincts? McLaurin earned a B.A. from Meredith College in North Carolina. She was awarded a Puffin Foundation grant in 2006 and a Berkshire Taconic Artist's Resource Trust award in 2003.
"The Human Animal Project" continues the Trustman Gallery's 2008-09 academic year theme "In Between: The Cultural DMZ," a series of exhibitions that alternately examine the actual and perceived distinctions between ethnic groups and cultural imperatives, the human relationship to nature, and the cultural memory of 9/11. Gallery talks, performances and video screenings will offer dynamic intellectual counterpoint to the gallery exhibitions. This series builds on the Trustman Art Gallery's commitment to aesthetic provocation and reputation for excellence.
Trustman Art Gallery hours are 10 AM – 4:30 PM, Monday, Tuesday, and Friday, 10 AM – 7 PM on Wednesday and Thursday. The gallery is free, open to the public and wheelchair accessible. For more information, contact Kyle Mendelsohn at (617) 521-2268 or find us on Instagram.