Lush
A Two-Person Exhibition by Deborah Bohnert and Rachel Dayson-Levy
November 13 - December 14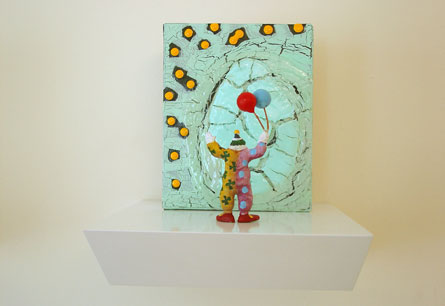 ---
Simmons University presents "Lush," a two-person show of paintings and mixed media works by Deborah Bohnert and Rachel Dayson-Levy, Nov. 13-Dec. 14, at the Simmons University Trustman Art Gallery, fourth floor, Main College Building, 300 The Fenway, in Boston.
A reception with the artists will be held in the Trustman Gallery from 5-6:30 p.m. on Tuesday, Nov. 13. The exhibit and reception are free and open to the public.
Bohnert builds on the tradition of the "objet trouve," or the found object, combined with an exploration of the conventions of abstract painting. In her part of the exhibit, titled "Little Fruits," psychologically and aesthetically charged objects become sculptural forms that Bohnert pairs with organic abstraction; the paintings' cracked and nearly molten surfaces showcase her masterful command of texture and color.
Dayson-Levy takes on the "Battle of the Sexes" in her watercolor and mixed media paintings. Although contemporary, these works on paper create an improvisational riff on the cocktail-set cartoons of Virgil Partch, the zany pop culture references of "MAD" magazine, and the shimmering palette and pattern of vintage fabrics.
"Lush" is the last of three fall exhibits in the series "Spinning Straw into Gold: The Ethics of Production," curated by Trustman Gallery Director Barbara O'Brien. The series focuses on the inspiration for, and production of, contemporary art in a Post-appropriation age where the "hunt and gather" model has expanded from the art historical images to pop culture, and from mid-century cartoons to a renewed interest in pattern and color.
Also in conjunction with the series is a lecture by noted art critic and scholar Donald Kuspit. Kuspit will give an address on the topic of "The Ethics of Transgression: Is it Still Possible?" on Nov. 14, at 7 p.m., in the Linda K. Paresky Conference Center at Simmons University.
The series, "Spinning Straw into Gold: The Ethics of Production," was funded by the LEF Foundation and by the Catherine Hannah Behrend Class of '70 Fund.
Bohnert graduated from the fine arts painting program at Boston University. In 1999, she began private study with the painter Bernd Haussmann. She currently resides in Marblehead.
Dayson-Levy earned an M.F.A from Purchase College, State University of New York. She studied at Skowhegan School of Painting and Sculpture after earning a B.A. from the Cleveland Institute of Art. Dayson-Levy is represented by Allston-Skirt Gallery in Boston.
Trustman Art Gallery hours are 10 AM – 4:30 PM, Monday, Tuesday, and Friday, 10 AM – 7 PM on Wednesday and Thursday. The gallery is free, open to the public and wheelchair accessible. For more information, contact Kyle Mendelsohn at (617) 521-2268 or find us on Instagram.