Lost in Place
An Exhibition by Robert Walden, Heidi Whitman, and Phyllis Ewen
February 11 - March 21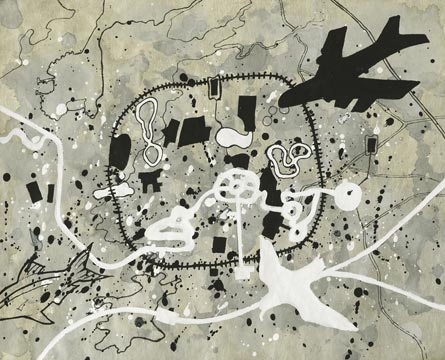 ---
Simmons University presents "Lost in Place," a three-person exhibition of works on paper by Robert Walden and Heidi Whitman, and mixed media relief sculpture by Phyllis Ewen, Feb. 11-March 21, at the Simmons University Trustman Art Gallery, fourth floor, Main College Building, 300 The Fenway, in Boston.
A reception with the artists will be held in the Trustman Gallery from 5-6:30 p.m. on Monday, Feb. 11. The exhibit and reception are free and open to the public. "Lost in Place" is curated by Trustman Gallery Director Barbara O'Brien.
Whether found in memory, imagination or geography, the invented topographies in works of art by Walden, Whitman, and Ewen come from the human impulse to get lost in an idea, a state of mind, or a place on the map.
Works on paper by Walden and Whitman, executed in ink and gouache, find translucent counterpoint in ephemeral latex and wire relief sculptures by Ewen. Walden uses a single color of ink and acrylic to create his fine-lined "Ontological Road Maps." For the Trustman Art Gallery exhibit, he will create new multi-panel works. According to Elizabeth Grady, formerly of the Whitney Museum of American Art," Walden's ontological road maps suggest aerial views or maps of elaborate urban zones complete with housing developments, industrial areas, and business districts. However, the accustomed crisp printing of ordinary maps gives way to the insistent presence of the handof the artist…"
Whitman interprets the topography of Boston in the "Brain Terrain" drawings. According to Whitman, "the Brain Terrain drawings focus on thought, memory, and dream. Nightmarish references to nature in peril and endless war are juxtaposed with more pacific imagery. The Shawmut Peninsula in Boston often makes a cameo appearance, indicating home territory in my mental maps."
Ewen creates complex systems of language, form, and experience in her wall relief sculptures. The artist's three-dimensional drawing refers both to scientific notation and diagramming, as well as to the hand of the artist herself, suggesting a continuum between art and science. Ewen explains, "Our attempts to contain experience and the impossibility of permanence are issues that resonate with how I experience my place in the natural world."
Also in conjunction with the "Lost in Place" exhibit is a special evening on Feb. 28 at 7 p.m. with artist Ann Fessler. Fessler will screen her film "Along the Pale Blue River," and lecture on her work having to do with mothers who surrendered infants for adoption between WWII and Roe v. Wade. The presentation will be in the Linda K. Paresky Conference Center at Simmons University.
Walden has received fellowships from the Pollock-Krasner and the Edward F. Albee foundations. He earned a B.F.A. from Atlanta College of Art. He currently resides in Brooklyn, NY.
Whitman and Ewen are both Boston-based artists. Ewen's work is in the collections of the Museum of Fine Arts, Boston and the DeCordova Museum and Sculpture Park. She is represented by A.I.R. Gallery in New York City. Whitman is a graduate of the School of the Museum of Fine Arts, Boston and has an impressive record of exhibitions and placement in public and private collections.
Trustman Art Gallery hours are 10 AM – 4:30 PM, Monday, Tuesday, and Friday, 10 AM – 7 PM on Wednesday and Thursday. The gallery is free, open to the public and wheelchair accessible. For more information, contact Kyle Mendelsohn at (617) 521-2268 or find us on Instagram.