In Between: The Cultural DMZ
A Two-Person Exhibition by Ben Sloat and Dorothy Imagire
September 2 - October 3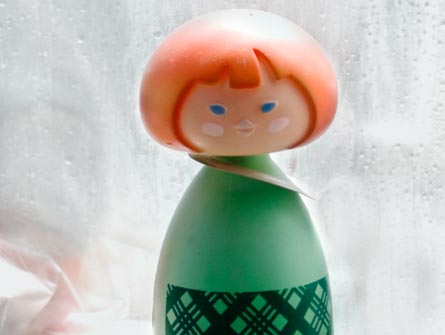 ---
Simmons University presents "In Between: The Cultural DMZ," a two-person show of photographic prints by Ben Sloat and "Mixed-Identity" Kimonos by Dorothy Imagire, Sept. 2-Oct. 3, at the Simmons University Trustman Art Gallery, fourth floor, Main College Building, 300 The Fenway, in Boston.
A conversation with the artists will be held on Thursday, Sept. 11 at 5:00 p.m. A reception with the artists will follow. The exhibit and reception are free and open to the public.
Both bodies of work seduce with their beauty, wit and formal bravado: the challenges to cultural norms and readings of race and gender emerge more obliquely. What constitutes the "self" and the "other" comes into surprising and compelling focus. Both artists mix "high" and "low" while maintaining a critical and self-aware stance.
Sloat allows the echoes of art history, cultural theory and cultural imperatives to impact the making of, and reading of, his photographic works. For the Trustman exhibit, he will present "Little Ladies," a series of seven photographic prints printed onto mulberry paper and mounted onto silk panels. The "Little Ladies" are small shampoo bottles produced by Avon in the 1970s. While all of the "ladies" were created from the same plastic mold, subtle changes in the color of hair or clothing were meant to indicate a shift in ethnicity. Photographed against the silky white of a shower curtain, the figures become characters in the drama of a not-so-distant past. How we view these caricatures of ethnicity is put into sharp relief by Sloat's decision to print the photos onto mulberry paper and then to mount them on silk panels. The not-so-distant quotidian past of Middle America is placed in counterpoint against the art historic tradition of the Chinese folding screen.
Imagire is a mixed-media artist who addresses the space between identities. Her photographic, installation and sculptural work takes as its point of departure her own experiences as a woman of Iranian/Japanese descent. She explores Asian-American female stereotypes through "exotic" fetishes, including kimonos. To create the "Mixed-Race Kimonos," Imagire interviewed other mixed people: third-generation Japanese Americans combined with either Iranian, Scotch, Chinese, German, African, or Peruvian backgrounds, among others, that allow the person to create a conceptual self-portrait. The individual human-scaled garments are a blend of culturally specific fabrics that create a visual metaphor for how each person thinks of him/herself.
For the 2008-09 season, the Trustman Gallery is presenting a series of exhibitions presented under the umbrella title "Between: The Cultural DMZ." This ambitious, multi-part project features works of art that examine a cultural DMZ — the distinctions between ethnic groups, cultural imperatives, the human relationship to nature, the cultural memory of 9/11, and formal distinctions between art forms. This series builds on the Trustman Art Gallery's commitment to aesthetic provocation and a reputation for placing contemporary art within the larger liberal arts tradition.
According to Gallery Director Barbara O'Brien, "The life well lived finds renewed vigor with contemporary art. Rather than being distant from our everyday lives, 'What comes next?' is at the center of intellectual and personal meaning. What we find in the work of Sloat and Imagire is a dynamic relationship of artistic form and cultural imperative. The life of the mind in dialogue, with the aesthetic experience of contemporary art, offers a powerful opportunity for personal and cultural growth."
Others exhibitions in this series will include "The Human/Animal Project," curated by Paul Roux, and a solo exhibition of "Post-9/11" mixed-media works by sculptor June Ahrens.
Born in New York City, Sloat received an undergraduate degree from the University of California Berkeley in 1999, and a graduate degree from Tufts University/School of the Museum of Fine Arts, Boston, in 2005. Recent solo shows include the Front Gallery in Oakland, CA and Safe-T Gallery in Brooklyn, NY. Sloat has been the recipient of a Ford Foundation grant and recently was awarded a Fulbright Scholar's grant for a seven-month photo project in Taiwan. His work has been reviewed in the "Boston Globe," "Oakland Tribune" and "New York Times." He has been a guest lecturer at the University of California Berkeley, Rhode Island School of Design, the University of California Santa Cruz, and the University of Massachusetts Boston. He currently teaches photography, digital media, and photo history at The Art Institute of Boston.
Imagire lives and works in Connecticut and earned an M.F.A. from the Rhode Island School of Design in 1990. She received a B.F.A. from the University of New Hampshire. Exhibits of Imagire's work have been featured at the New Museum in New York City, as well as the Long Beach Museum of Art and the Houston Center of Photography. Her awards include a New England Foundation for the Arts New Forms Grant and a New England Foundation for the Arts Regional Fellowship for Visual Artists in Photography. She has been an artist-in-residence at the Center for Photography in Woodstock, NY, and at Yaddo in Saratoga, NY. She is a frequent presenter at conferences including the national conference of Society of Photographic Educators, and a sought-after panel member at symposia including Tufts University and the University of Connecticut, Storrs. Imagire has been a visiting artist at colleges across New England, including the University of Massachusetts Lowell, Montserrat College, and School of the Museum of Fine Arts, Boston.
Trustman Art Gallery hours are 10 AM – 4:30 PM, Monday, Tuesday, and Friday, 10 AM – 7 PM on Wednesday and Thursday. The gallery is free, open to the public and wheelchair accessible. For more information, contact Kyle Mendelsohn at (617) 521-2268 or find us on Instagram.