Transparent Couture and Other Pleasures
Sculptures by Cynthia Atwood
February 5 – March 2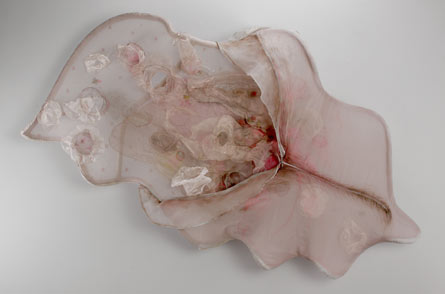 ---
Simmons University presents "Transparent Couture and Other Pleasures," sculpture by Cynthia Atwood, from February 5 – March 2, 2007 at the Simmons University Trustman Art Gallery, fourth floor, Main College Building, 300 The Fenway.
There will be a reception at the gallery featuring the artist on February 6, from 5-7 p.m. Also in attendance will be the recently appointed director of the Trustman Art Gallery and exhibition curator, Barbara O'Brien.
Atwood's mixed media sculptures combine large branches from her wooded property in the Berkshires, grapevines from abandoned farmlands, rubber bumble bees and plastic grapes, and layers of translucent painted silk. A mix of play and discipline, imagination and meticulous craft are all inspired elements in this bravura body of work. When viewing Atwood's sculptures, one looks into and through the works of art. Layers of translucent fabric are fluted, crimped, frilled, and ruffled. Sewn gesture combined with painted surfaces and tenderly bound branches from trees found on her Berkshires property create a rhythmic, sometimes cyclonic pattern with a scant place for the gaze to rest, but ample space for the imagination.
A return to painting, her first training as an artist, is one of the hallmarks of this body of work. Atwood earned her B.F.A. from the University of Kansas and her M.F.A. from Vermont College of Norwich.
While Atwood's sculptures and installations have been exhibited in group shows at many New England venues, including the DeCordova Museum and Sculpture Park and the Mills Gallery at Boston Center for the Arts, the Trustman Gallery exhibit is her first one-person show in the Boston area.
Awards for Atwood's sculpture include the 2000 National Prize at the Cambridge Art Association awarded by Carl Belz, as well as a New England Foundation for the Arts 1997 Sculpture Fellowship. In 2005, Atwood was awarded a Klots Residency at Rochefort-en-Terre in Brittany, France. It was there she developed the gouache studies and found inspiration for the series of sculptures on view at the Trustman Gallery. Atwood is represented by, and all work is courtesy of Morgan Lehman Gallery, New York City.
Trustman Art Gallery hours are 10 AM – 4:30 PM, Monday, Tuesday, and Friday, 10 AM – 7 PM on Wednesday and Thursday. The gallery is free, open to the public and wheelchair accessible. For more information, contact Kyle Mendelsohn at (617) 521-2268 or find us on Instagram.