Water and Woods: Intimate Wanderings
New Photographs by Edie Bresler
November 6 - December 8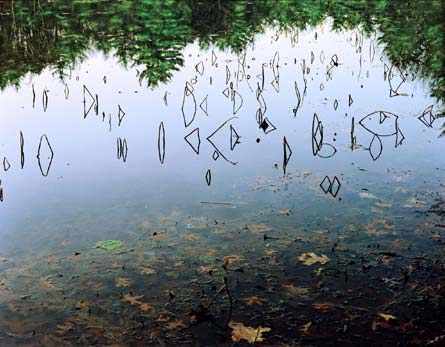 ---
Simmons University presents "Water and Woods: Intimate Wanderings" new photographs by Edie Bresler, from Nov. 6 – Dec. 8, at the Simmons University Trustman Art Gallery, fourth floor, Main College Building, 300 The Fenway.
There will be a reception featuring the artist, from 5-7 p.m. on Tuesday, Nov. 14. Also in attendance will be the newly appointed director of the Trustman Art Gallery, Barbara O'Brien.
The installation of the photographs will reflect Bresler's preoccupation with the concept of Gesamtkunstwerk – the total work of art. For Bresler, the total work of art incorporates three intimately connected bodies of work: "Photographs," "Specimens," and "Mandalas." The Trustman Gallery walls will be activated with an adventurous exhibition design influenced by the various ways in which art can be "read": the book, the linear, and the grid.
Bresler's photographs, created using a 4×5 view camera, are inspired by the local, the familiar, and the energy buzzing in the woods of Concord, the land that fueled Henry David Thoreau. According to Bresler, Thoreau's writings are "important field guides for learning how to truly look at nature." Bresler is an assistant professor of art at Simmons, where she has taught since 2000. She studied photography at the School of Visual Arts in New York City.
Awards for Bresler's photography include a fellowship from the New York Foundation for the Arts, Polaroid Film Support, and the Chautauqua Art Institute.
Trustman Art Gallery hours are 10 AM – 4:30 PM, Monday, Tuesday, and Friday, 10 AM – 7 PM on Wednesday and Thursday. The gallery is free, open to the public and wheelchair accessible. For more information, contact Kyle Mendelsohn at (617) 521-2268 or find us on Instagram.