Passages
An Exhibition of Paintings by Marilyn Levin
March 15 - April 21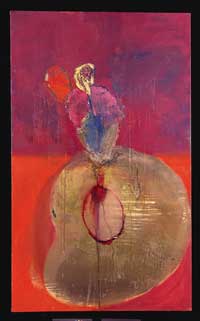 ---
The Simmons University Trustman Art Gallery presents "Passages," an exhibition of paintings by Marilyn Levin, running March 15 to April 21 in the Trustman Art Gallery at Simmons University in Boston, fourth floor, Main College Building, 300 The Fenway. The gallery is closed April 17 for Patriots Day.
Exhibit hours are 10:00 a.m. – 4:30 p.m., Monday through Friday. Admission is free and open to the public. A reception will take place on Thursday, March 30, from 4:30-6:30 p.m.
Levin creates lush, abstract paintings filled with color. Her process involves fluid brushwork and the pouring of oil paint directly onto canvases. She then scrapes through the layers and unearths a multitude of unexpected hues and textures. "Passages" features works from 2005 and 2006 that were inspired by the color and spirituality of India, where she traveled in January 2005. Levin's unique style of combining gold with intense color suggests ancient temple art and Indian miniatures. Her ambiguous forms evoke tantric geometries and the organic energies of the natural world.
This exhibition is curated by Simmons University students in the Arts in the Community Seminar. Levin is a 1964 graduate of Simmons University. She received her M.F.A. from UCLA. She currently teaches at Tufts University and the School of the Museum of Fine Arts. Her work is featured in many public and private collections. She is represented by the Toomey Tourell Gallery in San Francisco.
---
CoronaVirus Update: Due to ongoing health concerns the Trustman Art Gallery will be closed for the remainder of the semester.
Trustman Gallery hours are 10 a.m.- 4:30 p.m, Monday, Tuesday, Wednesday and Friday, 10 a.m.-7 p.m. on Thursday. The gallery is free, open to the public and wheelchair accessible. For more information, contact Marcia Lomedico at 617-521-2268, find us on Facebook, and Instagram.