Recent Work from the Theater of Memory
March 16 - April 22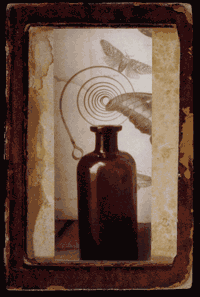 ---
Simmons University Trustman Art Gallery presents "Jesseca Ferguson: Recent Work from the Theatre of Memory", an exhibit featuring pinhole photographs, March 16 – April 22 at the Simmons University Trustman Art Gallery, fourth floor, Main College Building, 300 The Fenway. The exhibit, from 10 a.m. to 4:30 p.m., Monday through Friday, is free and open to the public. A reception for the artist with a gallery talk will be Thurs., March 24 from 4:30 – 6:30 p.m.
Ferguson, an internationally admired artist whose work is featured in many major public and private collections, crafts haunting photographs using an assemblage of objects – book pages, images for art history, and taxidermy. Her vision evokes the mysteries of science, history, travel and memory.
The unique pinhole process requires Ferguson to surrender trust to her medium. She relies on natural light, works without a viewfinder, and prints using 19th century techniques or modern versions of antique processes. The results are oddly familiar images, revealing an inner "cabinet of curiosity."
In addition to showing photographs and objects in which photos are embedded, Ferguson will assemble a temporary cabinet of curiosities in the gallery comprised of material from her own studio and the sources of her imagery.
Ferguson has served as a lecturer at Mass College of Art and is currently an associate faculty member at the School of the Museum of Fine Arts. The exhibit is curated by Simmons students in the Arts in the Community seminar. The gallery is wheelchair accessible. For more information contact Marcia Lomedico at 617-521-2268.
Trustman Art Gallery hours are 10 AM – 4:30 PM, Monday, Tuesday, and Friday, 10 AM – 7 PM on Wednesday and Thursday. The gallery is free, open to the public and wheelchair accessible. For more information, contact Kyle Mendelsohn at (617) 521-2268 or find us on Instagram.