Sally Moore: Recent Sculpture and Drawings
September 3 - 30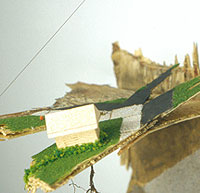 ---
The Simmons University Trustman Art Gallery presents "Sally Moore: Recent Sculpture and Drawings," running Sept. 6-30 at the Trustman Art Gallery at Simmons University, Main College Building, fourth floor, 300 The Fenway in Boston.
Exhibit hours are from 10 a.m. – 4:30 p.m., Mon. through Fri. Admission is free. A reception will take place Tues., Sept 13, from 5:00 –7:00 p.m.
Moore's dynamic sculptures depict complex miniature worlds paradoxically conveying conflict, tension, and fragility with a sense of playfulness. The structures seem to defy gravity: disassembled landscapes extending from the wall, which appear to have no foreground, background, or horizon line.
Moore distresses recycled plywood, constructs fragile wooden ladders, uses soft fringe as a contrast to broken plywood, shards of glass, and rough-cut edges of steel mesh. Her "odd pairings" all perform a delicate balancing act to create disturbing, beautiful, and entertaining art.
The exhibit also features Moore's drawings, which include photocopies from her sketchbooks that give insight into her creative thought process.
Trustman Art Gallery hours are 10 AM – 4:30 PM, Monday, Tuesday, and Friday, 10 AM – 7 PM on Wednesday and Thursday. The gallery is free, open to the public and wheelchair accessible. For more information, contact Kyle Mendelsohn at (617) 521-2268 or find us on Instagram.