Michael Mazure: Rarely Seen Prints on Silk and Paper
March 19 - April 25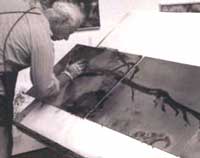 ---
Nationally acclaimed artist Michael Mazur will present his work in the exhibit "Michael Mazur: Rarely Seen Prints on Silk and Paper" March 19 to April 25 at the Simmons University Trustman Art Gallery, fourth floor, Main Campus Building, 300 The Fenway. The exhibit is free and open to the public. A reception for the artist with a gallery talk will be held Wednesday, April 2, from 4:30-6:30 p.m.
This group of works from the 1980s is shown in conjunction with the national 2003 Southern Graphics Conference April 2-5, where Mazur will be recognized as Printmaker Emeritus.
Mazur, who has created prints since the early 1950s, is known for his spirit of continuous experimentation and inventiveness with materials and technical means. Although he has extended traditional printmaking in many new directions over the years, Mazur said that "what remains constant is the surprise of each proof as it emerges from under the roller and yields its images."
Born in New York in 1935, Mazur grew up during the emergence of abstract expressionism, and graduated from Yale School of Art and Architecture in 1959. He has had many solo exhibitions nationally and internationally and his work is in many important public and private collections. In 2000, he was given two simultaneous exhibitions at Boston's Museum of Fine Arts- a retrospective of his prints and a show of recently completed paintings. A noted teacher and inspiration to other practicing artists, Mazur has taught and been a visiting artist at many colleges and universities. He lives and works in Cambridge.
Trustman Art Gallery hours are 10 AM – 4:30 PM, Monday, Tuesday, and Friday, 10 AM – 7 PM on Wednesday and Thursday. The gallery is free, open to the public and wheelchair accessible. For more information, contact Kyle Mendelsohn at (617) 521-2268 or find us on Instagram.