Art from ABAFAZI
A Tenth Anniversary Retrospective
February 10 - March 7
Opening Reception:
Thursday, March 6 from 4:30 to 6:30pm
Artist Talk:
Thursday, March 6 from 5:00pm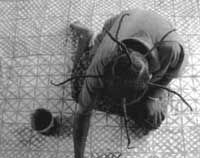 ---
ABAFAZI, The Simmons University Journal of Women of African Descent, continues its tenth anniversary with a celebration of art throughout the Diaspora, created by emerging and established artists working in various media. Artists include Barbara Ward-Armstrong, Dana Chandler, Reginald Jackson, Julee Dickerson Thompson, Valerie Maynard, Alison Randal Williams, and Deborah Willis.
---
CoronaVirus Update: Due to ongoing health concerns the Trustman Art Gallery will be closed for the remainder of the semester.
Trustman Gallery hours are 10 a.m.- 4:30 p.m, Monday, Tuesday, Wednesday and Friday, 10 a.m.-7 p.m. on Thursday. The gallery is free, open to the public and wheelchair accessible. For more information, contact Marcia Lomedico at 617-521-2268, find us on Facebook, and Instagram.