A Day in the Life of Simmons University
April 29 - May 30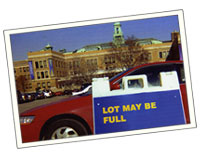 ---
A Day in the Life of Simmons University is an exhibit of photographs by over 120 members of the college community who participated in a photo shoot which recorded life at Simmons of February 26, 2003. Among the photographers are students, faculty, staff, maintenance, and security personnel who express their individual observations relating to their lives at the college. The work is presented without attribution in order to emphasize the spirit of a whole community. This is similar to the format that the Museum of Modern Art in N.Y.C. embraced when MOMA created a post 9/11 exhibition of photography by New Yorkers with no distinction being made between the professional and the amateur photographers.
---
CoronaVirus Update: Due to ongoing health concerns the Trustman Art Gallery will be closed for the remainder of the semester.
Trustman Gallery hours are 10 a.m.- 4:30 p.m, Monday, Tuesday, Wednesday and Friday, 10 a.m.-7 p.m. on Thursday. The gallery is free, open to the public and wheelchair accessible. For more information, contact Marcia Lomedico at 617-521-2268, find us on Facebook, and Instagram.