The Ideal and The Real
Campesino art from Solentiname, Nicaragua
October 7 - November 8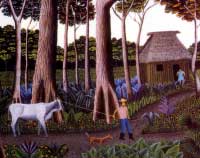 ---
Eighteen Nicaraguan artists will present "The Ideal and the Real," campesino art from Solentiname, Nicaragua, Oct. 7 to Nov. 8 at the Simmons University Trustman Art Gallery, fourth floor, Main College Building, 300 The Fenway. There will be a reception from 4:30–6:30 p.m. Tuesday, Oct. 15, with a gallery talk at 5 p.m. by Solentiname artist Elena Pineda and John Brentlinger, founder of the Solentiname Friendship Group. The event is free and open to the public.
A variety of Solentiname artists, including Elena Pineda, Yelba Ubau, Rudolfo Arellano and Fransico Altamiran, contributed to the colorful and imaginative paintings and balsa wood sculptures in the exhibit.
Solentiname is an archipelago of 38 islands in Lake Nicaragua, where approximately 1,000 people make their living from agriculture, fishing, and the arts. In the mid-1960s, the Nicaraguan priest and poet, Ernesto Cardenal, founded a small spiritual community in Solentiname, chosen for its beauty, tranquility, and isolation. At that time, the campesinos, or farmers, were miserably poor, and Cardenal began to introduce them to various crafts in an effort to improve their situation. Painting about the struggles of daily life and the beautiful natural surroundings flourished in the community.
During the 1980s Sandinista revolution, Cardenal was the minister of culture, and he further promoted the development of art in Solentiname with exhibitions of Solentiname painting in Nicaragua, Europe, Latin America, and Asia. Calendars, greeting cards and books made the work known throughout the world. A sawmill was built on the islands and woodworking crafts began to flourish as well. The social, cultural and economic life of the people of Solentiname was transformed. Today, there are more than fifty painters and artisans working on the islands.
Since the electoral defeat of the Sandinistas in 1990, the Nicaraguan government no longer supports or promotes art, except in a token manner. The Solentiname painters and craftspeople have organized their own association, as well as the Solentiname Gallery in Managua, and have continued painting, exhibiting, and selling their work to a national and international audience. Women artists represent the majority of the memberships of the Solentiname Association of Painters and Artisans.
Trustman Art Gallery hours are 10 AM – 4:30 PM, Monday, Tuesday, and Friday, 10 AM – 7 PM on Wednesday and Thursday. The gallery is free, open to the public and wheelchair accessible. For more information, contact Kyle Mendelsohn at (617) 521-2268 or find us on Instagram.