Piece by Piece
November 11 - December 13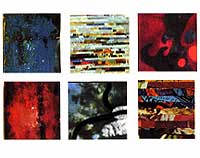 ---
The Simmons University Trustman Art Gallery presents "Piece by Piece," an exhibit that brings together the recent work of Sarah Gindel, Karen Moss, and Maxine Yalovitz–Blankenship, three artists who work in divergent styles and media but who all assemble their work piece by piece. The exhibit will run from Nov.11 to Dec. 13 at the Simmons University Trustman Art Gallery, fourth floor, Main College Building, 300 The Fenway. There will be a reception from 4:30 to 6:30 p.m. Monday, Nov. 18, with a gallery talk at 5:00 p.m. The event is free and open to the public.
"Art for me, has always helped to 'make things right' in a troubled world. It has served as a medium to express, an attempt to comprehend and unify the chaos around me in metaphorical terms," said Yalovitz–Blankenship. Her statement reflects the creative motivation of each of the artists in the exhibit.
Moss shreds consumer catalogs into strips that create the foundation for her collage paintings. While these abstractions emphasizing surface and color are the least didactic images Moss has produced in years, they subtly convey a message relating to consumerism and waste.
Both Gindel and Yalovitz–Blankenship use the grid as the underlying structure for their work. Yalovitz–Blankenship creates multiple abstract images of torn, sewn, or cut paper painted with acrylic and sand, which she assembles into a grid format. Gindel's quilts use internal body imagery such as cells, tumors, organs, and bones as inspiration for her abstract compositions. The images are "pieced" together in a grid structure, which is part of a quilt-making tradition and a conscious means of creating the order that stems from the artist's training as a painter. Largely composed of hand-dyed fabrics, these quilts explore the beauty of a biomorphic world tragically precipitated by the cancer diagnosis of Gindel's father.
These three widely exhibited Boston-based artists will be seen for the first time together at the Trustman Art Gallery.
Trustman Art Gallery hours are 10 AM – 4:30 PM, Monday, Tuesday, and Friday, 10 AM – 7 PM on Wednesday and Thursday. The gallery is free, open to the public and wheelchair accessible. For more information, contact Kyle Mendelsohn at (617) 521-2268 or find us on Instagram.