Hair Stories and Other Stories
Photography by Karin Stack
September 3 - October 4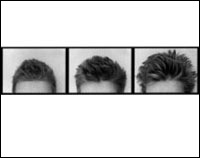 ---
Simmons University presents "Hair Stories and Other Stories: Photography by Karin Stack," Sept. 3 to Oct. 4 at the Simmons University Trustman Art Gallery, fourth floor, Main Campus Building, 300 The Fenway. There will be a reception from 4:30 to 6:30 p.m. Sept. 12, with a gallery talk at 5:00 p.m. The event is free and open to the public.
This exhibit is best described through the artist's own words. "'Hair Stories' is the centerpiece of a cycle of works inspired by my diagnosis of breast cancer in 1998 at the age of 32. From the chaotic realm of illness and uncertainty, I produced a post-chemotherapy chronicle of hair growth through weekly photographs. Not without humor, the ordered structure of the installation, which takes the form of a horizontal timeline, challenges the disorder confronted. The 52 photographs are the result of scanning 35 mm negatives and digitally outputting the images to control format and layout and to overlay an additional system of order, control and technology.
"The photographs follow my progress after chemotherapy from bald to hairy," said Stack. "Using the ordered language of minimalism and scientific documentation, I examine the steady resumption of natural processes and the surprise of new hair growth. An accompanying voiceover forms a narrative that explores hair in the context of private and pivotal moments in my personal history, including the diagnosis and treatment for breast cancer. A flipbook combines these images and texts."
Stack, of Williamstown, MA, creates a visual documentation of her post chemotherapy experiences, but unlike artists such as Hannah Wilke, Stack has removed identifiable traces of herself in the visual component of her story. Her approach establishes a universal connection with other cancer patients who have experienced chemotherapy and ultimately communicates a sense of optimism. The "Other Stories" are an even more provocative series of photographs related to the same theme.
When "Hair Stories" was exhibited at Wesleyan University in 2001, William Zimmer of the New York Times described the installation as "a perfect embodiment of a range of emotions."
Trustman Art Gallery hours are 10 AM – 4:30 PM, Monday, Tuesday, and Friday, 10 AM – 7 PM on Wednesday and Thursday. The gallery is free, open to the public and wheelchair accessible. For more information, contact Kyle Mendelsohn at (617) 521-2268 or find us on Instagram.