Collectanea 1,2, & 3: Excerpts from the Mother Tapes
March 21 - April 26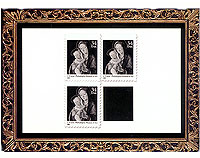 ---
Simmons University presents Nancy Salzer's "Collectanea 1,2, & 3: Excerpts from the Mother Tapes," March 21 to April 26 at the Simmons University Trustman Art Gallery, fourth floor, Main College Building, 300 The Fenway. There will be a reception from 4:30 to 6:30 p.m. April 4, with a gallery talk at 5 p.m. The event is free and open to the public.
The exhibit is an investigation of several moments in the life of a single mother. Part of an on-going project, this first person video diary and installation explores the conflicting and intertwining terrains of maternal love, politics, the legal system, "what's best for the child," and how these issues affect the everyday work of mothering. Through a series of "huts," Salzer contemplates one mother's attempts to organize motherhood's complexities.
Salzer's films have been shown nationally and internationally, including at the Museum of Modern Art and the UNESCO International Festival of Films on Art & Architecture. Recognized for her "Survival of a Small City, Parts 1 & 2," on PBS, she is currently a visiting scholar/filmmaker at the Women's Studies Research Center at Brandeis University, and has taught at numerous colleges. Her awards include Bunting and Mellon fellowships, NEA, and Mass Cultural Council grants. Salzer has organized several symposia on women's studies and film.
Trustman Art Gallery hours are 10 AM – 4:30 PM, Monday, Tuesday, and Friday, 10 AM – 7 PM on Wednesday and Thursday. The gallery is free, open to the public and wheelchair accessible. For more information, contact Kyle Mendelsohn at (617) 521-2268 or find us on Instagram.