Simmons Collects
A Selection of Works From the Simmons University Art Collection
September 5 - 28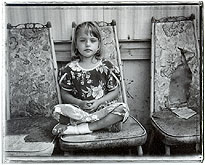 ---
An exhibition of paintings, drawings, photographs, and prints- not recently displayed at the college will be the focus of the exhibit "Simmons Collects," Sept. 5 to Sept. 28 at the Simmons University Trustman Art Gallery, fourth floor Simmons Main Campus Building, 300 The Fenway. There will be a reception from 4:30-6:30 p.m. Sept. 12. The exhibit is free and open to the public.
The Simmons University Art Collection is comprised of work donated by alumnae, artists, and friends of the college. Enabled by contributions to the Simmons University Art Fund, Simmons has actively pursued the acquisition of contemporary art with a strong emphasis on the work of women artists.
Robert Oppenheim, collection curator and director of the Trustman Art Gallery, has organized the exhibition, which will include works by James Hansen, Kunie Sugiura, M.C. Escher, Marja Lianko, Cynthia Nartonis, Maxine Yalovitz-Blankenship, Ellen Wineberg, Honoré Daumier, Lynne Cohen, Jacqueline Hayden, Linda Mahoney, and others.
---
From the Curator:
"Simmons Collects" is a small sampling of a diverse collection of images the college acquired from a wide range of sources. The exhibition is about collecting and the way this collection was formed.
Most of our acquisitions were made possible by the Lyle K. Bush Art Fund named after the first associate Professor of Art at Simmons. The fund was established after Professor Bush retired in 1963 and was shepherded in its early years by Professor Virginia Bratton of the Communications Department and Professor Edith Helman of the Department of Foreign Languages. In recent years the L.K.B. Art Fund purchases have almost exclusively focused on collecting contemporary women artists. The fund has been supported by many alumnae, particularly the generous contributions of Rocco and Marion (Steibel '46) Siciliano.
Twenty-three of the thirty-seven images displayed in this exhibit were L.K.B. Art Fund purchases. The rest of the exhibited artwork were gifts from artists, alumnae, and bequests from estates and Garland Junior College.
Robert Oppenheim
Director, Trustman Gallery
Curator of the College Art Collection
Trustman Art Gallery hours are 10 AM – 4:30 PM, Monday, Tuesday, and Friday, 10 AM – 7 PM on Wednesday and Thursday. The gallery is free, open to the public and wheelchair accessible. For more information, contact Kyle Mendelsohn at (617) 521-2268 or find us on Instagram.