Prisons, Factories, Schools
Photography by Michael Jacobson-Hardy
October 26 - December 6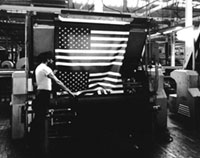 ---
Simmons University presents "Prisons, Factories, Schools", Photography by Michael Jacobson-Hardy" Oct. 29-Dec. 6 at the Simmons University Trustman Art Gallery, fourth floor, Main Campus Building, 300 The Fenway. There will be a reception from 4:30-6:30 p.m. Nov. 8, with a gallery talk at 5:00 p.m. The event is free and open to the public.
Jacobson-Hardy is a social documentary photographer whose work has consistently focused on social, class, and race issues in the U.S. "Prisons, Factories, Schools" is a selection of images from three of Jacobson-Hardy's publications: Beyond the Razor Wire –Portrait of an American Prison System (1999) with a forward by Angela Davis, The Changing Landscape of Labor (1996) and Facing Education (1994). A Northampton, MA resident, Jacobson-Hardy is completing a new book, Beyond the Monument in Washington D.C., with a forward by Ralph Nadar.
"Prisons, Factories, Schools" is the first Boston solo exhibit of an artist who has been widely represented by exhibitions in other cities.
Trustman Art Gallery hours are 10 AM – 4:30 PM, Monday, Tuesday, and Friday, 10 AM – 7 PM on Wednesday and Thursday. The gallery is free, open to the public and wheelchair accessible. For more information, contact Kyle Mendelsohn at (617) 521-2268 or find us on Instagram.