Sep 16, 2021 6:00 pm - 7:00 pm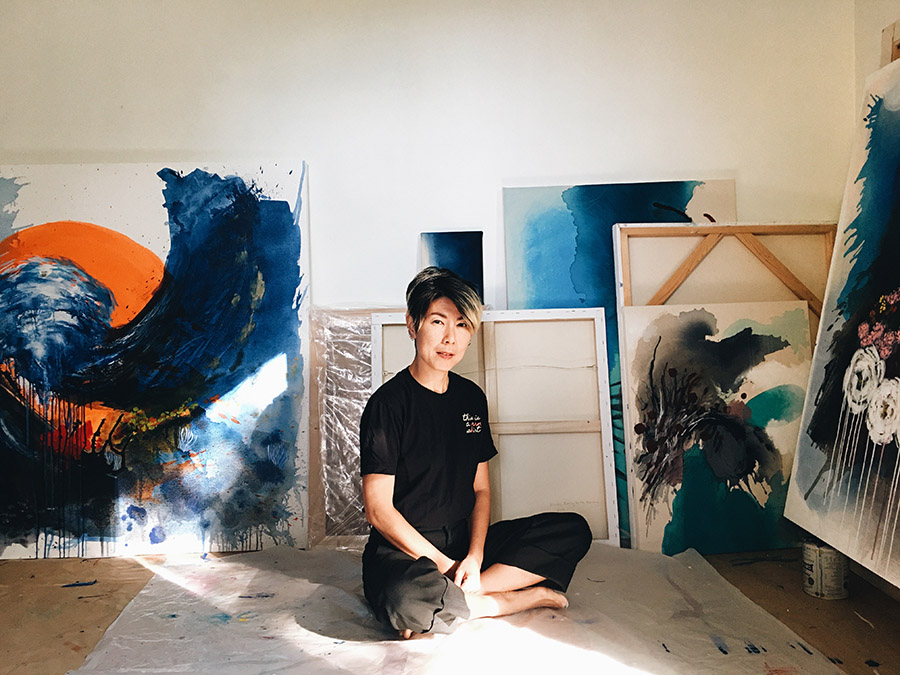 Artist Soyoung L Kim in her studio
Join us in-person at the Gallery or remotely via Zoom for a presentation and Q&A session with Soyoung L Kim. Registration is required, and Zoom connection details will be shared upon completion of the registration form and also before the event.
During the past 15 months, amidst the gravity of the pandemic, Kim has explored memories of her roots as a Korean-American woman who grew up in Kenya. Many of the pieces featured in WATER MEMORY resulted from this period of deep introspection and were inspired by stories of other women in literature. Just as water changes and reforms the physical scenery of our world, memory has the power to shape and alter our inner landscape. Kim conjures up her own memories to break free of them, coursing from the constraints of the past to the promise of a new and expansive future.
Trustman Art Gallery is proud to present WATER MEMORY, featuring new paintings, drawings, and sculptures by Soyoung L Kim, and on view from September 2 through October 15, 2021.
About the Artist
Soyoung L Kim was born in Seoul, South Korea, but spent most of her childhood in Nairobi, Kenya. Because of the many displacements in her life, Kim explores themes of dislocation, boundaries, and memories in her work. Her mixed-media and installation practice converges memories of the past, the feeling of the present, and dreams of the future. Transforming forgotten materials into something new, Kim draws inspiration from nature and her art-adjacent practice as a writer to create dynamic, ethereal compositions scattered with poignant textural references. She currently lives and works in Boston, MA.
This is an on campus event. A mask or other appropriate facial covering must be worn while inside campus buildings. An appropriate facial covering is one that provides full coverage of your nose and mouth. Additionally, food and beverages may not be consumed in the space. Please check the Simmons website for the latest health and safety guidelines and policies.
Please contact the Trustman Gallery if you have questions.
Registration is required for this event.