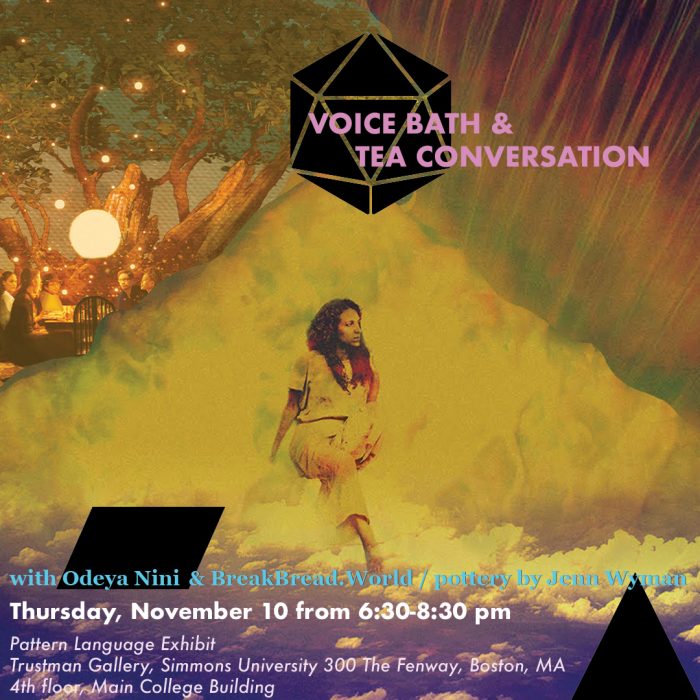 Join us at the gallery for a total sound immersion in the healing power of the human voice. Open your body, heart and mind for a journey in meditation to the healing sound waves of changing vibration, dynamic tone, melody, emotion and the powerful resonance of the voice.
After the Voice Bath, you are invited to Circle Patterns Over Tea & Conversation with Martha Williams and John Scilipote. Williams and Scilipote adapt their well-honed BreakBread process for Erdelyi's Pattern Language exhibit. The conversation will spiral around a carefully crafted question focused on patterns and will include simple ceremonial aspects. We will be drinking from hand-crafted pottery cups made by local artist Jenn Wyman.
Note: Feel free to bring a yoga mat or blanket, and comfortable clothes, we will be lying down for at least an hour.
Bio/Links
Odeya Nini is a Los Angeles based interdisciplinary vocalist and embodied vocal coach and sound meditation practitioner. Her solo vocal work extends the dimension and expression of the voice and body, creating a sonic and physical panorama of silence to noise and tenderness to grandeur.
Odeya's work has been presented at venues and festivals across the US and internationally from Los Angeles to Tel Aviv, Australia, Mongolia, Madagascar and Vietnam. She leads Voice Baths, workshops and retreats exploring the transformative and healing qualities of the embodied voice.
Martha Williams & John Scilipote
Martha, a long-time creative mad-woman & director who draws from dance, film, and sustainability (CalArts, YouTube, The Flea Theater, BugHouse SPIN, the Chelsea Art Museum, Spike Lee) and John a soulful musician (Jazz, Latin, Big Band), published poet, and non-dual healer who raised a family while running a digital marketing and technology business for 25 years…got together. They wanted to use their skills and passionate vantage to elevate endeavors that uncover the unsaid and unseen while shifting into a world of healthy head, heart, and earth. This is when they developed BreakBread, a transformative food/conversation process that nourishes the body while calling upon the gifts of the heart and mind, to expand and flex our assumptions about how we live together in a culture and be with ourselves, others, and the world around us. They believe the practice of inquiry and curiosity is the antidote to potentially slow cooking into societal dysfunction.
Original and bespoke Pottery by Jennifer Wyman
@kill_nin_it