Dec 2, 2021 6:00 pm - 7:00 pm Trustman Art Gallery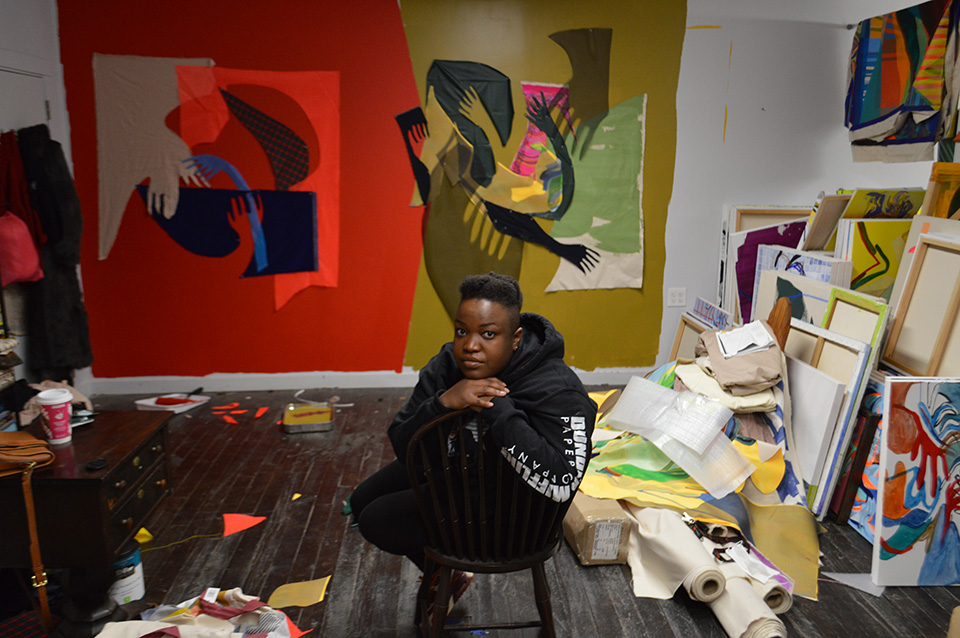 Simmons University presents To Bare Witness, featuring works from several groupings that comprise Destiny Palmer's "Labored Bodies" series.
In the artworks on view, Palmer seeks to examine and process her personal and familial history. Her works connect past to present, and investigate abstraction and color as ways to articulate her experience as a person of color in 2021. These complex emotions and experiences, distilled and channeled through abstraction, find a unique and moving presence in her work. Echoes of representational imagery—hands reaching, body parts moving, tree branches swaying—call out simultaneously for recognition and obfuscation. Juxtaposed against the abstractions to form large-scale collages are archival images that compel viewers to confront the darker side of American history and question their assumptions of artistic abstraction.
An artist and educator who explores the intersections of painting, history, and color, Palmer works in a variety of mediums to create both conventional and public art projects that engage communities and help them reclaim their space and stories. Palmer's family history and her own personal experiences play a large role in her work and reflect her mission to shift the traditional understanding of art. She received her Bachelors in Fine Art in Painting at Massachusetts College of Art and Design and Masters of Fine Arts in Painting from Tyler School of Art at Temple University. Palmer has served on Boston's Arts and Culture Team, exhibits her work extensively in Boston and beyond, and currently teaches at Thayer Academy in Braintree, MA.
To Bare Witness will be on view from Thursday, October 21, 2021 through Friday, December 17, 2021 in the Trustman Art Gallery, located on the fourth floor of the Main College Building of Simmons University, 300 The Fenway in Boston.