Nov 2, 2023 5:00 pm - 8:00 pm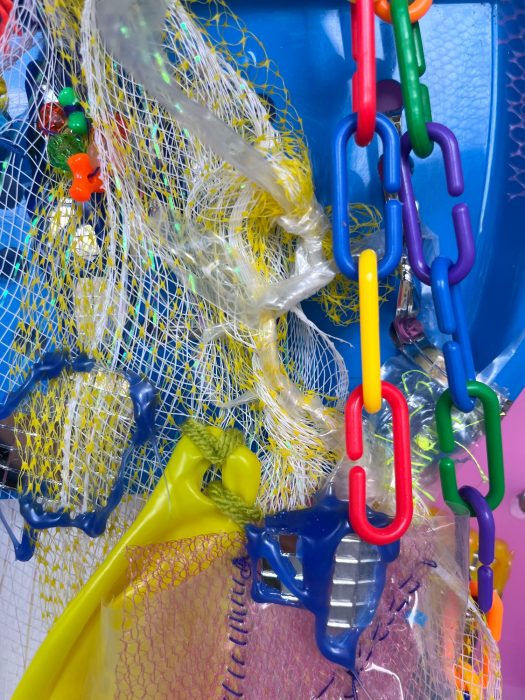 Simmons University presents Sea Glass is Diamond, featuring work by Loretta Park. The exhibition is on view from Monday, October 30, 2023 to Friday, December 15, 2023. The opening reception is on Thursday, November 2 from 5 to 8 PM.
In Sea Glass is Diamond, Loretta Park combines traditional fiber-art techniques with colorful, ordinary, and accessible objects to create vibrant, tactile sculptures. Using everything from nylon rope, plastic ice-cube trays and mesh bags to recyclables and scraps of paper, reimagining the everyday is a cornerstone of Park's work. As she sculpts and weaves, these common materials transform into something utterly new, just as our sense of wonder, innocence and understanding of value shift and change over time. The exhibition's title was inspired by her brother's admiration for sea glass in his youth, which he believed was as precious as gemstones. Three decades later, the artist was approached by a child who asked her if the crushed chandelier crystals in her work were real diamonds. In the unique combination of Park's hanging sculptures, weavings, and animations, Sea Glass is Diamond considers how disparate and common objects can create new gems of meaning.
Park's alchemical practice is based on her emotional and intuitive response to colors, textures, and shapes. She creates her pieces by continuously reacting to the previous material marks she has made, leading to an ongoing process of addition and subtraction. Plastic chains become ladders that allow other materials to climb up and down. Broken chandelier pieces become diamonds. A Fighting Stick is not just brightly colored pastiche of fun but it is also a mythical sword bound by magic, a toy super soaker, and a tool for self-defense.
Loretta Park (she/her) holds an MFA from Massachusetts College of Art and Design and a BA from Bowdoin College. Park has exhibited her work at Praise Shadows Gallery in Boston, Dimensions Variable in Miami, Ray Gallery in Brooklyn, The Station in the Fenway and several other national venues. Reviews of her artwork have appeared in Art New England, the Boston Globe, and Korean Daily. When she is not creating or exhibiting, Park serves as a Visiting Assistant Professor and Compass Faculty Mentor at Massachusetts College of Art and Design.  For more information, visit her website at https://www.lorettapark.com/