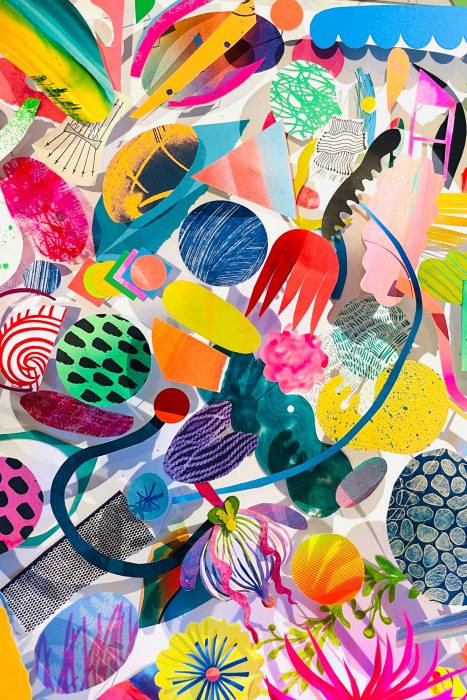 Simmons University presents Pattern Language, featuring work by Maya Erdelyi. The exhibition runs from Monday, October 31, 2022 to Friday, December 16, 2022. The opening reception is on Thursday, November 3 from 5 to 8 PM at the Trustman Art Gallery.
In Pattern Language, Erdelyi investigates the visceral and kinetic vernacular of pattern, color, repetition, and gestural relationships. Circles, spirals, triangles and orbits join interweaving layers of colors symbolizing cycles, conversations, movement and sound.
Erdelyi pushes the boundaries of paper and textiles and plays with notions of geometry evident in quilts and geodesic domes – she connects the dots, creating new paths and patterns. Using a wide array of mediums including collage, printmaking and drawing, Erdelyi cuts, burns, twists, sews and pins material to create a 3D-collage space where interlocking shapes, lines and shadows play, clash, and activate each other.
Informed by her animation practice, Erdelyi sees these collages as animation stills and visual songs; a sense of past, present, and future is implied by the dynamic shapes, colors and patterns. Hidden messages are woven into the works. The detritus of life, the pandemic, the reversal of Roe v. Wade, new motherhood, these all become a sub-layer of language quilted together in the pieces on view.
In this exhibit, Erdelyi brings in various collaborators to activate the gallery space and explore ways of connecting, building, and creating art in the community. These artists include: Odeya Nini, Martha Williams, John Scilipote, Jenn Wyman, Peat Duggins, Nadya Volicer, and Michael MacMahon.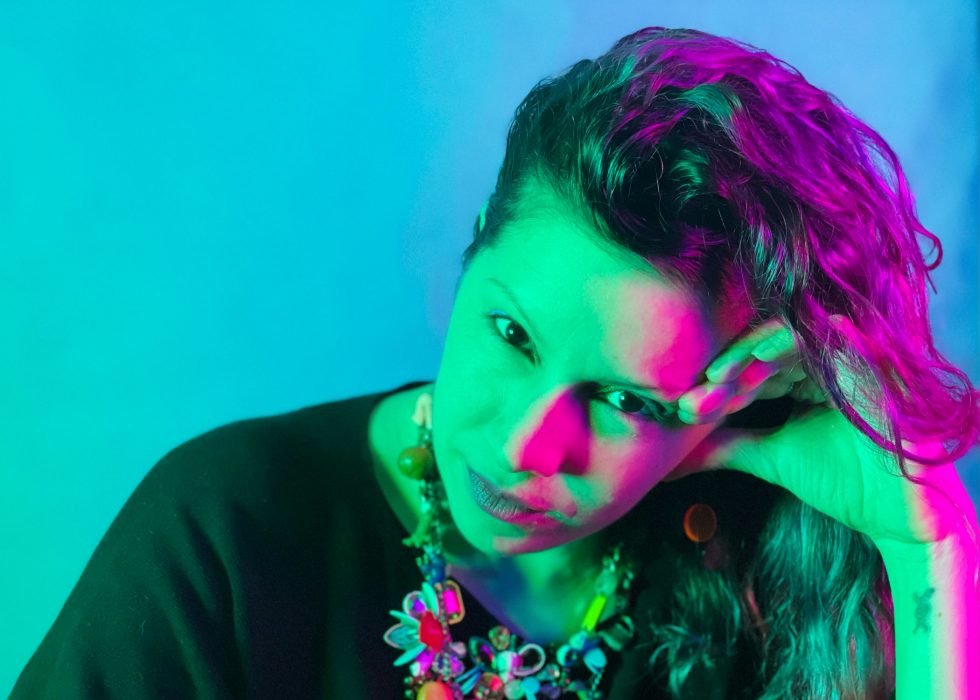 Erdelyi is an award-winning animator and artist – cutting, sourcing, and colliding memories and imaginary realms into animations and 3-D paper works. Her creative practice braids together various animation and visual processes: cut-paper, stop-motion, hand-drawn animation, collage, puppetry, printmaking and experimental direct-on-film techniques within hybrid digital worlds. She often uses bold colors, patterns, and found paper textures. The final artworks exist as animated films, artifacts, collages and installations. Through her own search for meaning in dreams, memories and the nature of reality, her films and projects aim to create spaces of wonder to contemplate movement, memory, color, and form. Erdelyi is a Colombian/Hungarian, first-generation American. Born and raised bilingually in New York City, she is currently based in Boston, where she teaches animation at the SMFA and works on a variety of independent projects. She lives with her husband Daniel, also an animator, and their daughter Paloma.