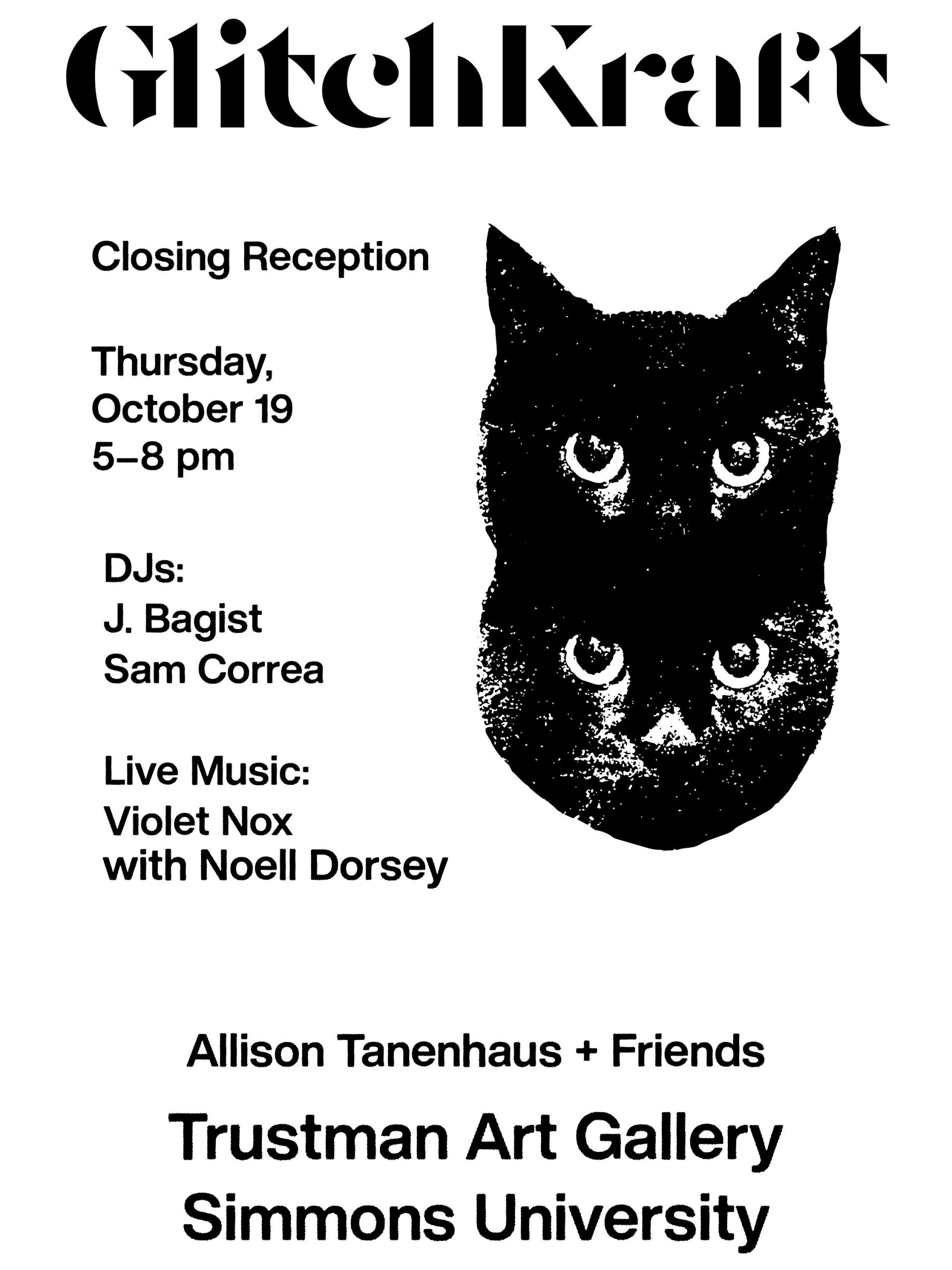 Simmons University presents GlitchKraft, featuring work by Allison Tanenhaus and friends. The exhibition is on view from Tuesday, September 5, 2023 to Friday, October 20, 2023. Please join us for the closing reception on Thursday, October 19 from 5 to 8 PM in the Trustman Art Gallery.
GlitchKraft is a glittering ode to glitch art, the practice of disrupting digital files for aesthetic purposes. Using and misusing consumer software, nostalgic electronics, smartphone apps, and AI, the exhibition's pixel pushers—all in or with ties to the Boston area—embrace error with perception-bending intention. Their trippy collected signals are abuzz with vivid hues, optical illusions, mutated media… and cats.
From multimedia works exploring the American West to video installations investigating cyberspace, this exhibition seamlessly joins the downright psychedelic with hyperreal examinations of contemporary culture. GlitchKraft does away with notions of traditional representation and instead invites us to consider the boundary between media and viewer. Through juxtaposing vintage CRT TV clusters with saturated, large-scale projections on the gallery walls, the resulting collection of work exists in a world all its own.
GlitchKraft showcases new-media installations by Allison Tanenhaus, Ben K. Foley, DebStep, J. Bagist, Alex Kittle, Vidumami, Christine Dream, Rudolf Lingens, Sabato Visconti, tvHat, Coolpics.biz, Jame Coyne, Maria Servellón, and Blktrmlne, with a collaborative TV sculpture also featuring w3rmwood, Pea.cok, Roger Maranan, Mr. Improbable, and Nicole Amidon.
Spearheading this group of artists is Allison Tanenhaus, a New York–born, Boston–based digital glitch artist. She specializes in trippy op art and anachronistic tech mashups with unexpected dimensional qualities. Source material consists of Allison's photos, AI imagery, and artifacts that she reconfigures using smartphone apps. Made with equal parts deliberation and experimentation, the remixed results are rainbow-hued mutations that take on a new psychedelic life. At a time when platforms pervasively cull personal data—and digital flawlessness is the norm—she views reclaiming devices, embracing error, and transforming environments as radical acts of autonomy and mindfulness.