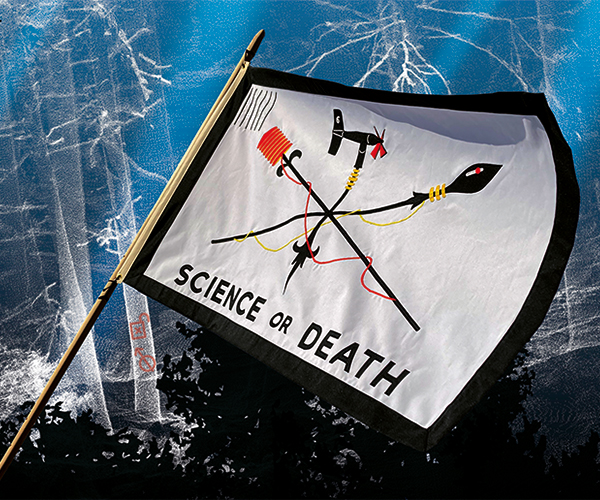 Simmons University presents Ghost Forests featuring new and collaborative work by David Buckley Borden. The exhibition runs from Tuesday, September 6, 2022 to Friday, October 21, 2022 with an opening reception on Thursday, September 8 from 5 – 8 PM at the Trustman Art Gallery.
Borden's latest collaborative art and design exhibition explores cultural response to dead and dying ecosystems through silkscreen prints, fabric works, wayfinding systems, speculative-futures sculpture, and other interdisciplinary installation work that defies simple categorization. True to Borden's singular creative approach, this body of narrative-driven work promotes a shared environmental awareness and heightened cultural value of ecology by using an accessible, often humorous, combination of visual art and design.
Ghost Forests will include a variety of Borden's recent Boston-based collaborative work, including 55 Gallon Drummers, Environmental Wayfinding, and the ever-expanding Environmental Revolution Flags project. The planned exhibition of this work was postponed in April 2020 due to the Covid-19 pandemic.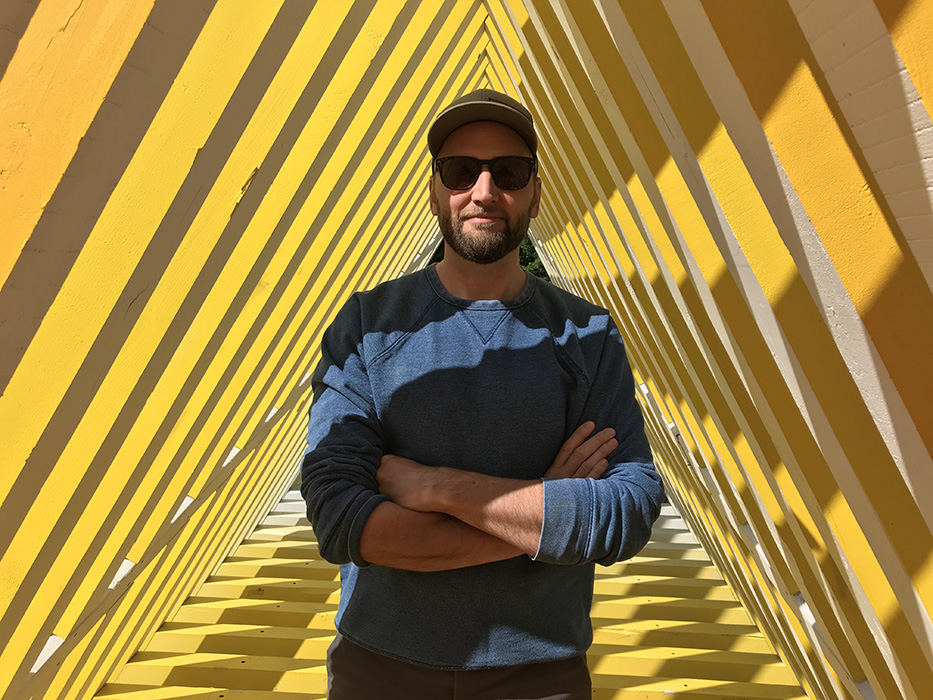 Ghost Forests will also include a variety of new work from Borden's Oregon-based collaborations including the Arboreal Goth Cone Collection, PNW Tree ID, and Lookout Lightning Stools. These Pacific Northwest-inspired projects draw on Borden's ongoing work in Oregon, where he is currently a Visiting Professor in the Landscape Architecture Department at the University of Oregon and a Designer-in-Residence at the HJ Andrews Experimental Forest in Blue River, Oregon.
Ghost Forests collaborators include: Vinnie Arnone, William Bonner, Christian Delano Borden, Jack K. Byers, Cyrille Conan, Mike Demaggio, I. V. Escher, Pat Falco, Evan Kwiecien, Tim Lillis, Isaac Martinotti, CC McGregor, Kenji Nakayama, Helen Popinchalk, Madison Sanders, Kennedy Marie Rauh, Nancy Silvers, and Sabine Winkler.
The work in this exhibition was funded by Simmons University's Trustman Art Gallery, the Fuller Initiative for Productive Landscape at the University of Oregon, Oregon State University Foundation's Andrews Forest Fund, and the Bullard Fellowship in Forest Research at the Harvard Forest.
David Buckley Borden is an interdisciplinary artist and designer working at the intersection of art, design, and ecology. Using an accessible, often humorous, combination of art and design, David's place-based projects highlight both pressing environmental issues and everyday phenomena. Informed by design research and community outreach, David's work manifests in a variety of forms, ranging from site-specific landscape installations in the forest to data-driven cartography in the gallery.