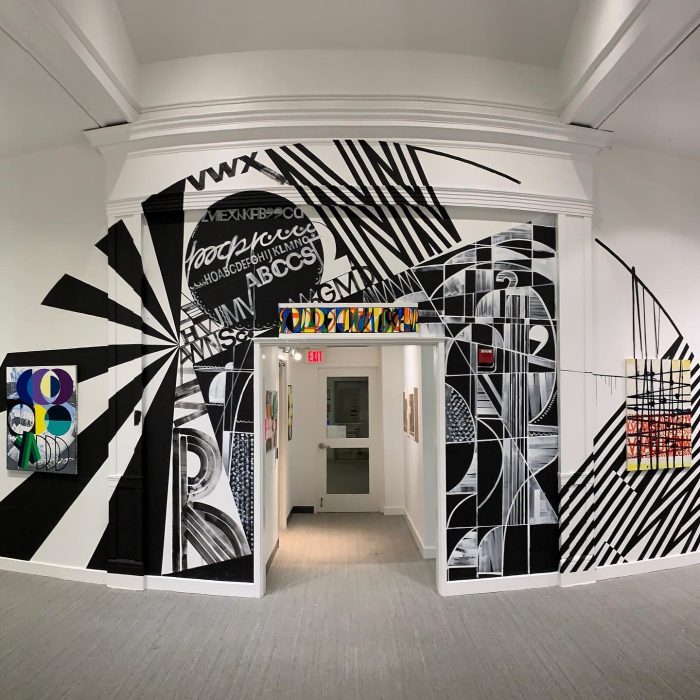 Meet the artists behind the Trustman Art Gallery's latest exhibition, Folie à Deux, and experience the colorful, "mad" world of local artists Cyrille Conan and Kenji Nakayama! The Trustman Gallery is opening its doors to the public for an artist reception from 5-8pm on Tuesday, February 22, 2022.
Long-time friends Conan and Nakayama began collaborating in 2019 for Dear So-and-So, a pen pals art show in which artists were encouraged to work in a call-and-response style. Trading paintings back and forth, Conan and Nakayama found that their subject matter, artistic styles and dispositions were perfectly suited to the process. Their collaborations continued even after the Dear So-and-So experiment ended.
Folie à Deux, a "madness shared by two," brings together several of their collaborative paintings as well as individual artworks by the two painters. As visitors travel through the Trustman Gallery, it becomes evident that each artist is inspired by the other; colors, shapes, lines and brushstrokes resonate around the room. Careful study and spontaneity exist simultaneously. In each artist's work, there is a focus on layout, spatial balance and repetition with special attention paid to process.
Nakayama and Conan also worked together on a site-specific mural for the Gallery. Conan's bold, geometric designs and signature razzle-dazzle camouflage mesh with Nakayama's stylized, painterly brush strokes. The overall effect is a stunning play on positive and negative space, black and white paint echoing and reverberating endlessly with the artworks hanging on the gallery walls.
Cyrille Conan grew up in Queens, NY as a first generation American. His family hails from France and he draws inspiration for his painting practice from his Celtic/Breton roots. He graduated with a BFA in Painting from the Hartford Art School and currently works as a Preparator for the Design Department at the MFA in Boston. His work has been widely exhibited in Boston and beyond and you can find his murals and site-specific installations throughout the city.
Kenji Nakayama grew up in Hokkaido, Japan and studied mechanical engineering in Tokyo before moving to Boston to learn traditional sign painting at Butera School of Arts. His work as a sign painter for the company he founded, Boston's Need Signs Will Paint, manifests in his artistic practice, one best described as a balance between meditation and highly trained craftsmanship. His work has been exhibited throughout the US and abroad in numerous solo and group exhibitions.
Please note that a mask or other appropriate facial covering must be worn while inside campus buildings, except when eating or drinking. An appropriate facial covering is one that provides full coverage of your nose and mouth. Please check the Simmons website for the latest health and safety guidelines and policies.Inquiries can be directed to Kyle Mendelsohn at 617-521-6628.