Apr 7, 2022 5:00 pm - 8:00 pm Trustman Gallery
Simmons University presents Enter the Cúcala, featuring paintings and mixed media assemblages created over the past two years by Rixy. This series investigates Rixy's personal Caribbean Latinidad experiences and explores a world inhabited by her cast of strong, vivacious and daring femme characters.  
Painted with a variety of media, these works seek to liberate Rixy's characters from Machismento's toxicity and recontextualize them in an environment of shifting power dynamics. Each femme character and creature, carefully and lovingly rendered in bright, dazzling colors, exudes sensual awareness. Depicted on found materials like packaging cardboard imbued with the sense-memory of previously contained objects, Rixy's characters take on an additional dimension of meaning, in line with the artist's emphasis on communal practice and storytelling. Rixy grounds her work with a sense of site-specificity through hand-painted designs on the gallery's walls, as well as strings, chains and braids that act as physical connections between her artwork and the space, bringing her dynamic, colorful world into our reality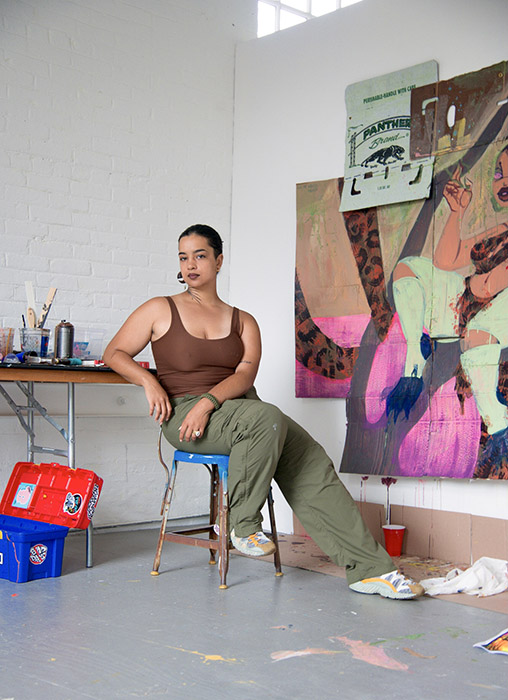 Rixy (she/her) is an Interdisciplinary Visual Arts Explorer + Public Storyteller from Roxbury, Massachusetts. As a first generation latinX womXn with blood roots in Honduran Garifuna & Dominican Caribeñe lands, Rixy is primarily community and self-taught. She uses a mixture of mediums, such as traditional acrylic and aerosol paint, inks, food dyes, fabrics, and other sustainable and recycled materials to create intimate conversations via her artwork. Rixy received her BA in 2019 from University of Massachusetts Boston, where she concentrated on sculpture with a focus on material, sensual and spatial awareness. Her work has been exhibited on street-wide and institutional spaces from New England to Latin America, and she is currently a Public Art Accelerator with Now + There's Cohort 4, and an artist in residence with Elevated Thought. 
Enter the Cúcala is on view from Monday, April 4, 2022 through Friday, May 13, 2022 in the Trustman Gallery, located on the fourth floor of the Main College Building, 300 The Fenway in Boston.