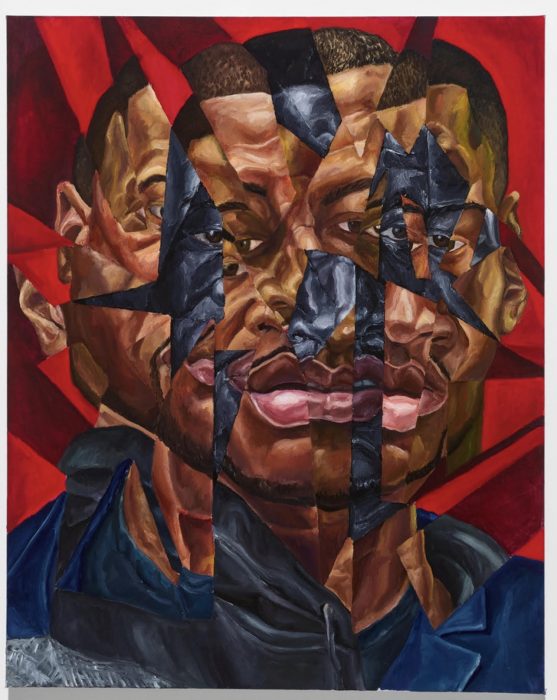 Join exhibiting artist Anthony Peyton Young for a discussion of his exhibition Luminosity: Birth to Form at Trustman Art Gallery on Tuesday, April 11 at 6PM. This is an in-person event, open to the public, at 300 Fenway, Boston MA 02115 in the Trustman Art Gallery on the 4th floor of Simmons University's Main College Building.
In Luminosity: Birth to Form, Young draws upon the quote "light confirms my reality, gives birth to my form" from Ralph Ellison's Invisible Man to explore identity both as an individual and as a part of a collective.
Paintings, drawings and collages from his series They Have Names, utilize portraiture as a tool to commemorate the numerous unarmed victims who have passed due to white supremacy and hate crimes. After creating full portraits of each person, he deconstructs and recontextualizes them into new, collective portraits. These shattered images reflect both the individual and shared loss within Black and Brown communities while simultaneously abstracting the individual out of respect for their families.
In new ceramic work, Young experiments with creating head jugs. A nod to the vessels historically made by enslaved people and later, by free African Americans, he sees these jars as tools for healing, memorialization, and spiritual cleansing. They also tie into Young's exploration of identity. While many historical head jugs were thought to be self portraits, Young's vessels are a reflection not only of self but of other individuals who have provided him with refuge. Young's art acts as a tool for contemplation, one that invites us to discuss, reflect upon, and move forward from both personal and collective trauma.
Anthony Peyton Young is a Boston-based artist who was born and raised in Charleston, WV. Working primarily in painting, drawing, ceramics, and collage, Young's work explores methods of memorializing, healing, family traditions, black/black queer intimacy, and the spaces we use to initiate these actions. He earned his B.A. from West Virginia State University and his M.F.A. from School of the Museum of Fine Arts/ Tufts University. Young has won awards such as the School of the Museum of Fine Arts/Tufts University Traveling Fellowship and the Walter Feldman Fellowship for Emerging Artists. His work is included in the collections of the Museum of Fine Arts, Boston, Simmons University, and Juliette Art Museum. He has also been featured in publications such as Gay Letter Magazine, New American Painting, Evergreen Review, and The Boston Globe. In addition to Luminosity: Birth to Form at Simmons University, Young has presented his work at Bemis Center for Contemporary Arts, Steven Zevitas Gallery and Harvard's Black Portraiture Conference.
Luminosity: Birth to Form is on view from Monday, April 10 – Friday, May 19, 2023 with an opening reception on Thursday, April 13 from 5 – 8PM.