Sea Glass is Diamond: Audio Guide – Robot
November 1, 2023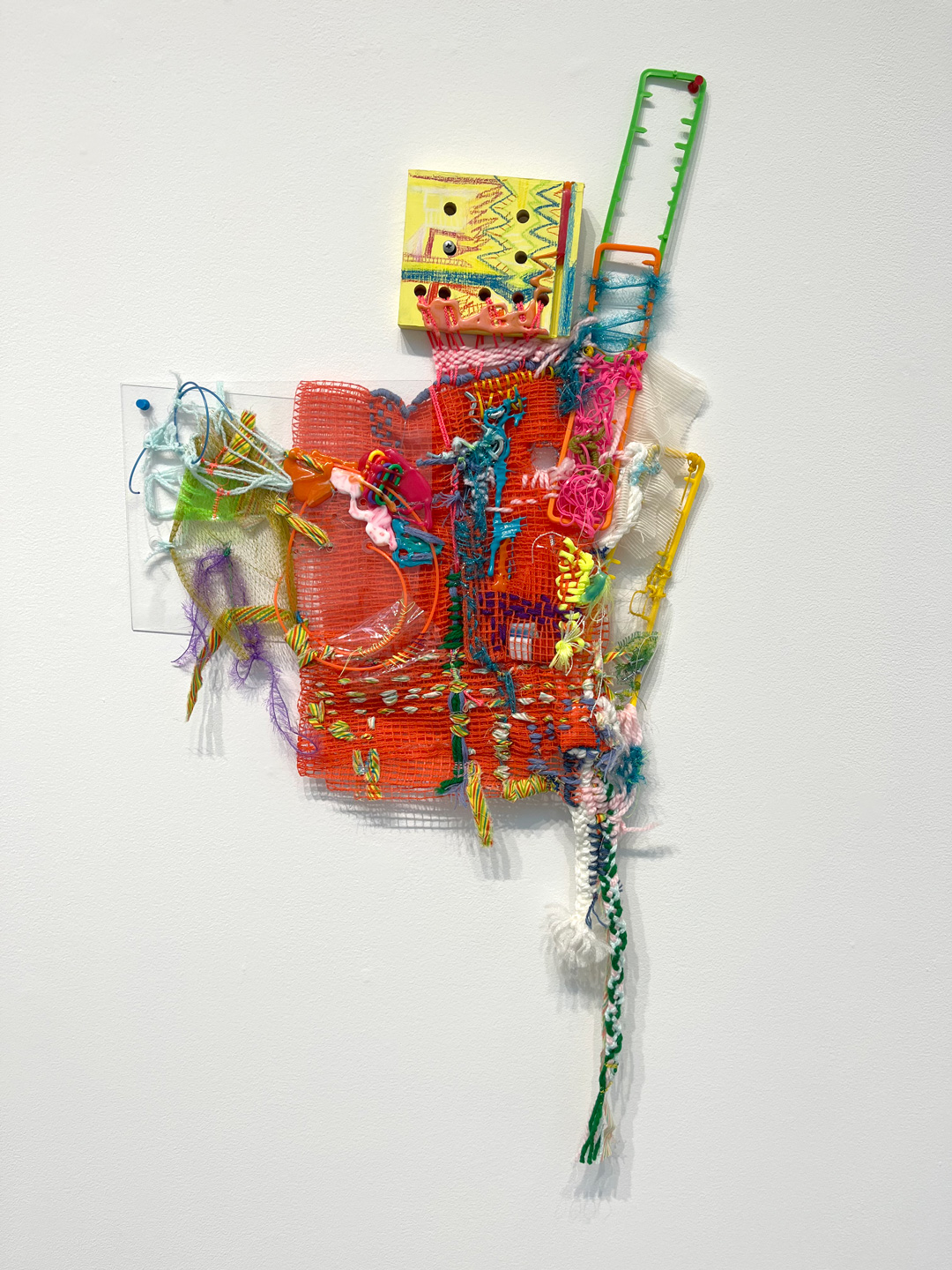 Transcript by Gallery and Curatorial Fellow Kaitlin Benton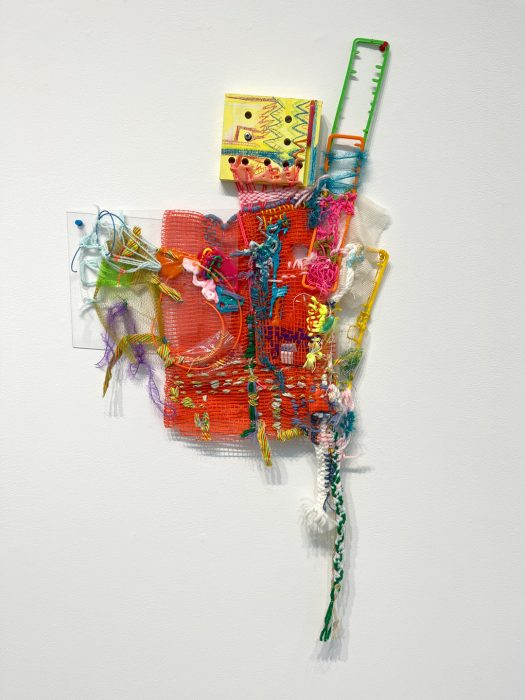 Transcript
This piece titled, Robot, gets its name from the wiry patches of woven string and geometric color blocks of acrylic sheets resembling a cyborg body. Reminiscent of a child's drawing, zigzags of colorful crayon dance along the artwork's surface. Melded together with gooey plastic and innovative attachments, Loretta Park engineers the mastermind of a scientist into a 3-D sculpture.
Bursts of color explode and collide throughout each of Park's artworks. Robot, is no exception – brightly colored bundles of fishing line, mesh bags, and yarn resemble flying sparks of electricity. Variations of texture stimulate the viewer's eyes as you weave through woven yarn entangled in plastic netting. Park plays with opacity as she layers sheets of plastic over one another, experimenting with the light bouncing off the reflective surfaces. Within her artmaking practice, imagining the possibilities of different materials in a way that is intuitive and plays off one another is paramount. Through the experimentation of materials, Park generates a sense of physicality between her artwork and the viewer – acknowledging sculpture and its relationship to the body as a more vibrant experience beyond the visual.
Loretta Park discusses the maximalist quality that characterizes the color palettes of her work. To Loretta, color is equated to the personal and when you use all colors, everything goes together. Color is a perception, and the emotional and expressive power of color has only been intensified by the modernist art movements of the 20th century. Despite Robot's cyborg qualities, Loretta's use of color, familiar textures, and objects allow us to project our own inclination for human connection and find evidence of humanity within the artwork. Alongside the patchwork of plastic pieces, we recognize a face, eyes, and a smile as the right limb resembles a waving arm saying: Hello!
Park's celebration of color is intentional. As an instructor at Mass Art, Park urges students to confront the fear of color found in academic artistic settings. In Western European art, excess color becomes synonymous with unrealistic, unsophisticated, disorientating, and simply: not white. Artist and writer, David Batchelor coined the term "chromophobia" as the varied attempts in the West to purge color from culture and deny its value and complexity. We see this in the contrast of vibrant dyes, textiles and materials found within non-European cultures that have been since washed away through colonial efforts. Now, artists such as Park work to reclaim a space for color to exist and celebrate its complexities. How can we, as viewers and artists, use color as a tool to express ourselves? How can we make color a vehicle of autonomy against traditional art spaces?