Sea Glass is Diamond: Audio Guide – Five Plates
November 1, 2023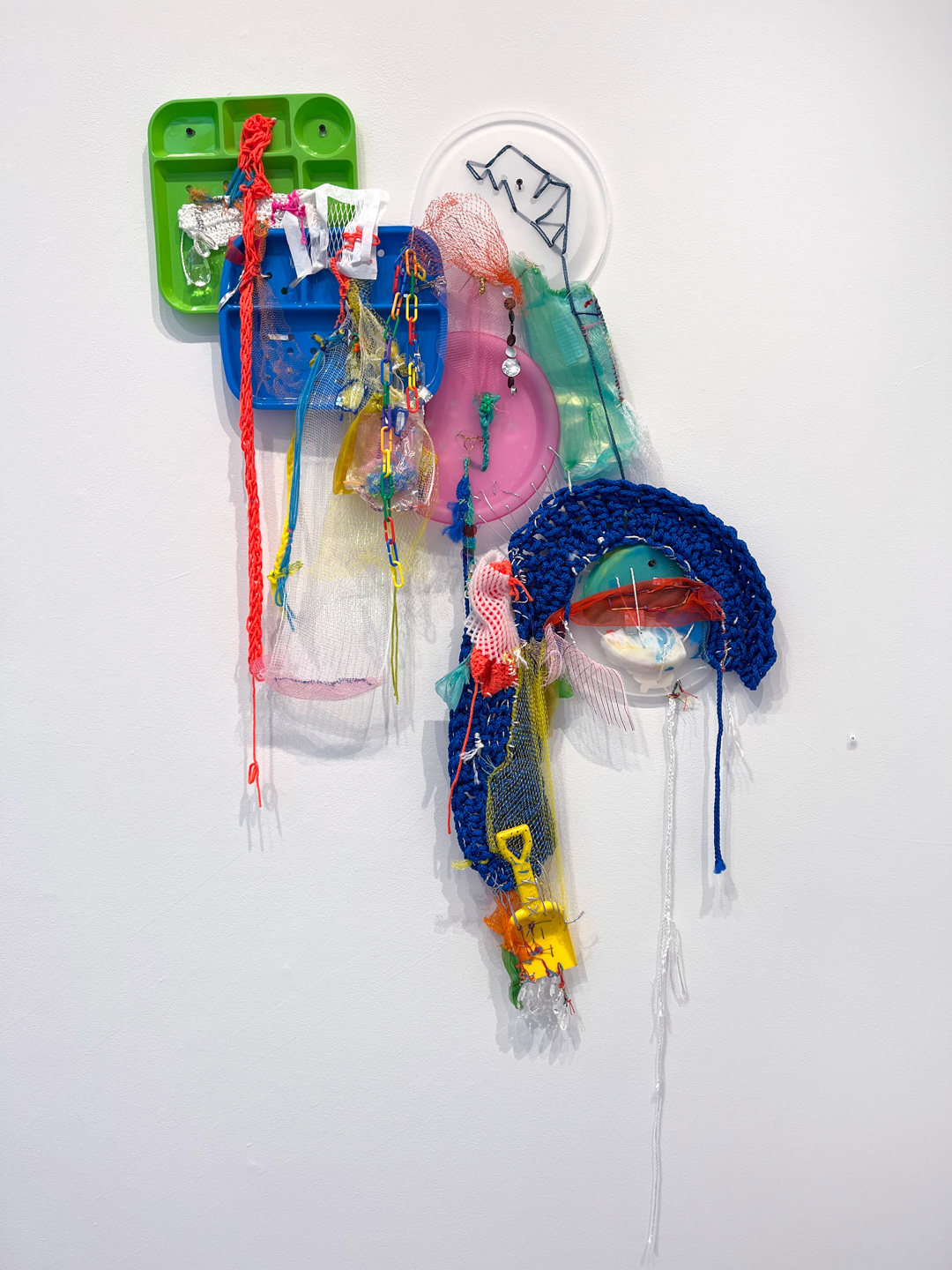 Transcript by Gallery & Curatorial Fellow Calla Savelson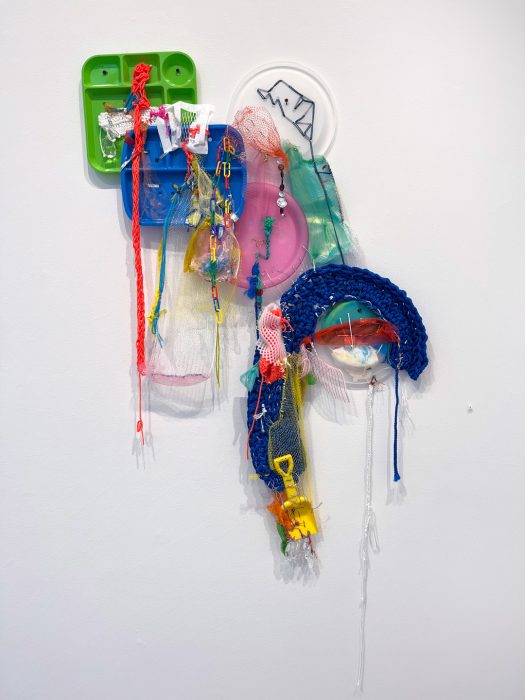 Transcript
The shape of Loretta Park's Five Plates, 2023, encourages the viewer's eye to bounce down the piece, as we would stairs. When we hit each step, we can stop and indulge in the various materials, colors, and textures that Park has placed, seeing how the contrasts work together to create a well rounded, experimental piece of art. We can see materials such as jewels, plastic, woven yarn, mesh bags, and chains among others. Park's work is truly one of a kind, so how did she get to such a unique place in a creative practice? 
Park began her undergrad as a pre-med student. During our conversation, she mentioned how the most impactful aspect of her studies were the labs. Being in a lab and experimenting is similar to a creative practice, which was one of the reasons Park was drawn to science. In college, things became more theory based. Instead of open ended experimentation, there was always an expected result. Someone had done what she was doing before, the answer was already there, she just had to get there. Park began losing interest in the pre-med track, and set about dedicating herself to her artistic practice. As a viewer, it is clear when looking at her work that this attempt to reach a predefined answer, or render a recreation of something that we have already seen, is not something that interests Park.
In graduate school at Mass Art, she began using sculpture as a transition medium, experimenting with materials like wood and vinyl, and approaching art in a formal abstraction sense which allowed her to expand on materials and form other ideas. When working with realism, Park found that she was hitting a wall, just as she had with her science labs. For the same reason that Park lost interest in labs, she lost interest in realism. Realistic art often has a specific end goal that artists are trying to reach. Realists are attempting to create a window into a reality, a recreation of what we see in the world. Abstraction is much more open ended. As an art style, it is also unique in that it can be approached at nearly any level. You don't need knowledge of art history or studio art to be able to see something or find your own meaning in the work. Park is not worried about reaching something specific, but rather interested in leaning into the exploratory nature of abstraction.
Now as a Visiting Assistant Professor and Compass Faculty Mentor at Massachusetts College of Art and Design, Loretta Park leans heavily into the uncertainty of the end result. As someone who is always working with other artists and teaching the next generation, she explains that her teaching is constantly informing her making and her making is constantly informing her teaching. The Sea Glass is Diamond exhibition creates a magical world of experimentation, exploration, and uncertainty. How can we, as viewers, take inspiration from Park's work, challenging ourselves to embrace the unknown and have fun with it?