Sea Glass is Diamond: Audio Guide – Fighting Stick Series
November 1, 2023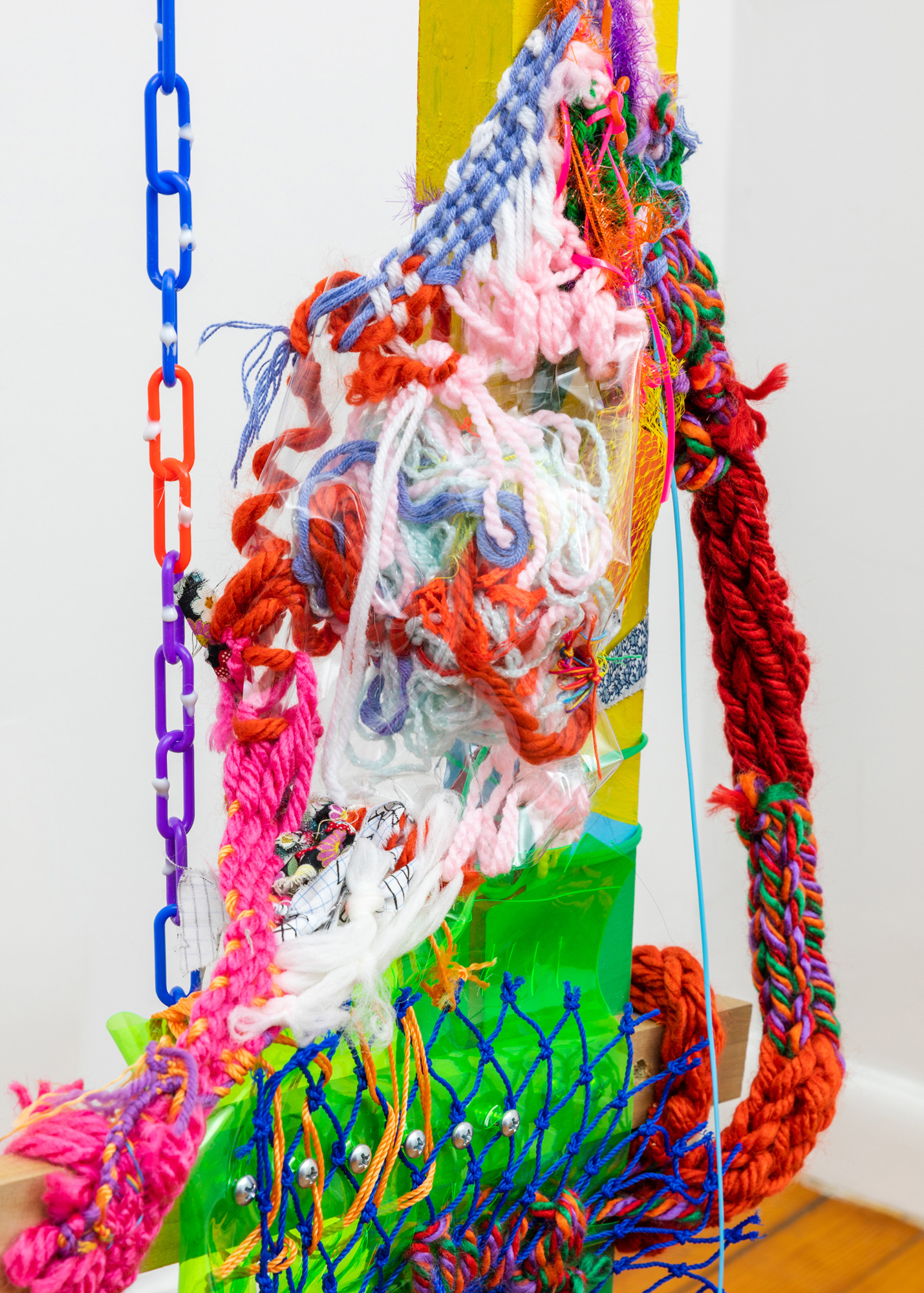 Transcript by Gallery and Curatorial Fellow Kaitlin Benton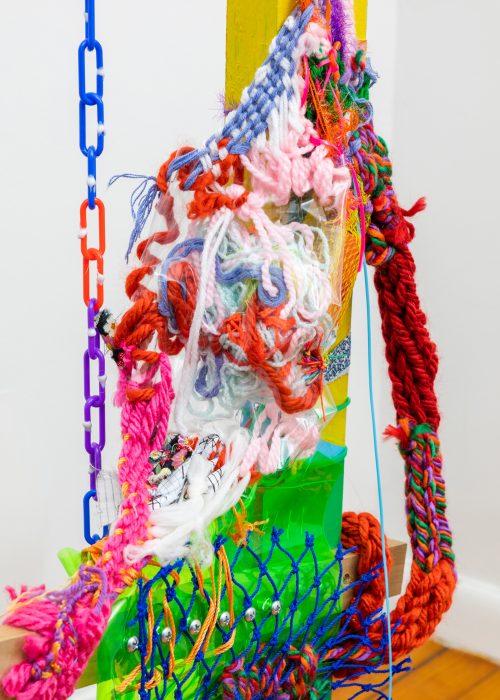 Transcript
Loretta Park's "Fighting Stick" series reclaims a sense of playfulness and fun within found objects. A broken tree branch discarded on the side of a hiking trail is reimagined as a toy, a magical staff, or a weapon. Park's installation creates a pathway of bundled wooden planks suspended by colorful chains for the viewer to walk through. Tree branches are picked up and given a new life, tied together with string, yarn, melted plastic with dangling charms, pompoms and fabric scraps hanging from their limbs.
On a hike with friends in the Poconos, Loretta picked up a broken tree branch: a fighting stick! She claimed. A fighting stick? When most would have seen a "walking stick" Park immediately saw the object as a tool for defense. The stick reminded her of a wooden sword used for play fighting and the way that the tree branch could scare away small animals or people that could do them harm.
With Loretta's immediate interpretation of this stick as a tool for defense, she reflects on her own positionality as an Asian American in a world built on patriarchy and white supremacy. Especially in the context of the Covid-19 Pandemic that left marginalized communities vulnerable. In addition to the increase of Anti-Asian hate crimes that generated a sense of hypervigilance in her own day-to-day living. Exhausted from the perpetual state of hyperawareness, Park reclaims that child-like instinct to play, create our own worlds, and transform objects as tools for support rather than violence.
Fun and play are major components in Park's work. She recognizes that as adults, it becomes harder to play in a way that is instinctual and intuitive. The imagination becomes constrained by the utilitarian and the academic. Thus, Park challenges the viewer to switch the function of objects and act on instinct.
Themes in Loretta Park's work welcome the viewer's interpretation to stretch from the superficial to the political. Abstraction is generated as the viewer can approach the work from different angles informed by their own personal experiences. From recognizing familiar fabric patterns tucked between wooden planks to resonating with the artist's socio-political commentary, Park creates an entrance for all viewers to bring their interpretations to the table. As a viewer, what ways can we re-fashion everyday objects into vehicles of imagination and unconventional play? Have you given yourself the space to play today? If not, Loretta Park's Seaglass is Diamond exhibition can inspire you to do so!