Luminosity: Birth to Form Audio Guide – Say Their Name X: Courtney "Eshay" Key 25, December, 25, 2020, Tyianna "Davarea" Alexander 28, January 6, 2021, Dominique Jackson 30, January 25, 2021, Diamond "Kyree" Sanders 23, March 3, 2021
April 12, 2023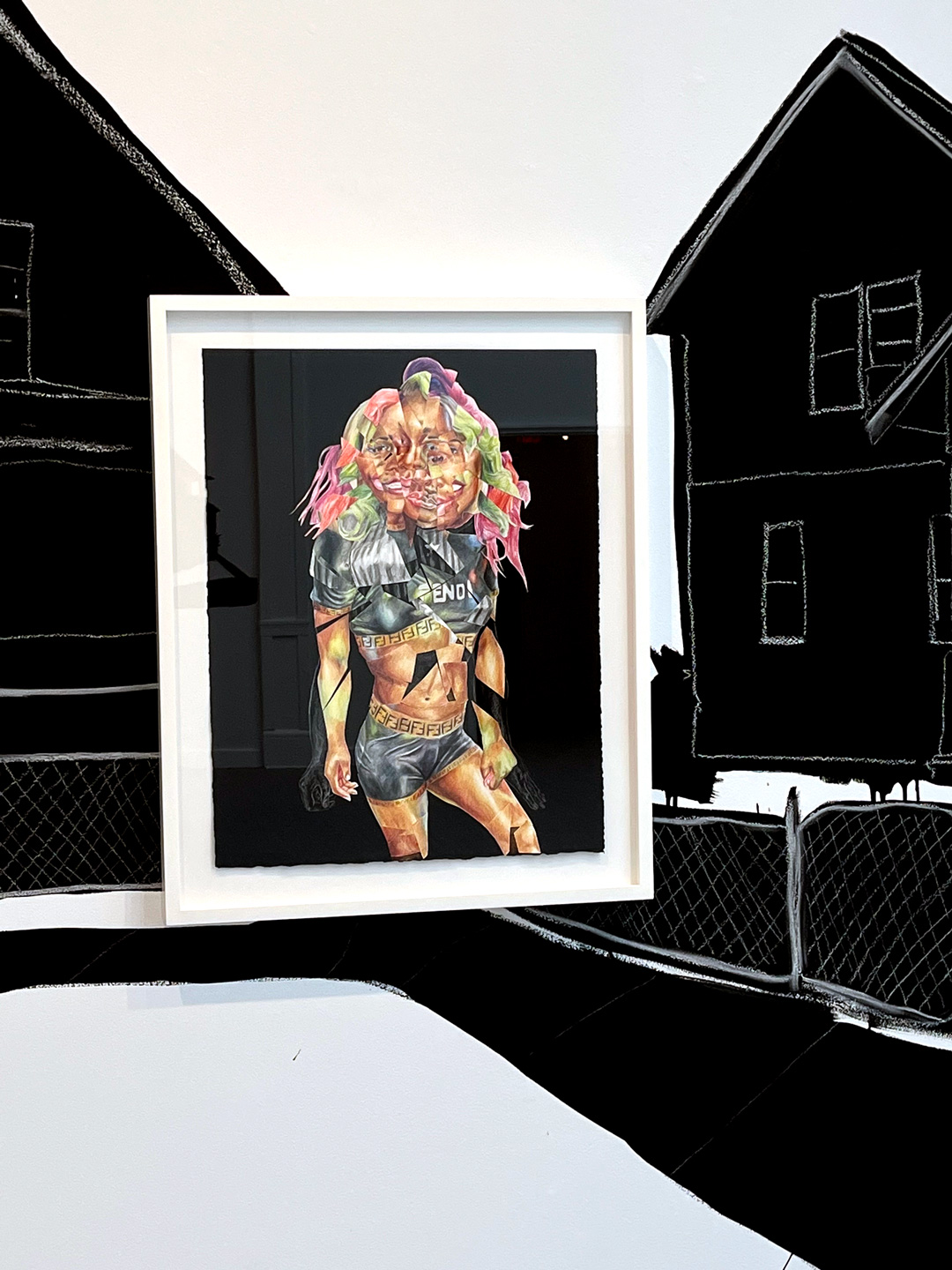 Transcript by Gallery & Curatorial Fellow Aria Cooper
Transcript
This piece by Anthony Peyton Young is a painted collage of 7 women and gender non conforming people who have been killed. This work is called
Say Their Name X:
Courtney "Eshay" Key, 25, December, 25, 2020
Tyianna "Davarea" Alexander 28, January 6, 2021
Dominique Jackson 30, January 25, 2021
Diamond "Kyree" Sanders 23, March 3, 2021
In Anthony Peyton Young's work, the splintering of portraits is a way to honor the victims without exploiting each individual. It's a way to be sensitive to the families and communities that knew them and situates them as a part of a larger story in America. Trans and gender non-conforming people have always existed. From Native American two spirit people to same sex couples in ancient Greece and African tribes. Gender and sexuality, similarly to race, are concepts that people invented and made real. The way that most Americans conceptualize gender today – as man and woman – is a result of colonization in which white Europeans buried queer rituals and practices of cultures around the world*. The American Civil Liberties Union is currently tracking 452 anti LGBTQ bills*. These bills undermine nondiscrimination laws and allow employers and hospitals to turn away LGBTQ people, limit LGBTQ books, ban drag shows, limit gender affirming healthcare for kids, restrict access to bathrooms, and limit trans students' access to sports.
In this piece, the green, pink, and purple hair stand out to me, alongside the matching Fendi top and bottom. I see signs of femininity but not a whole woman. The collaged format resembles a broken mirror. In these signs of femininity I see parts of myself reflected back. The fact that the image is broken and the faces are entangled within each other makes me think about missed opportunities, the potential that these people had left in their lives and the loss of these possibilities. This work also stands out to me because it's the only piece in the show that zooms out and depicts a body as well. The depiction of a body reminds me of the burden of perception that we are all under. We are judged for our race, clothes, body language, shape and size. Queer bodies are particularly policed and are often sites of violence with an average of 38 homicides of trans people each year from 2018 to 2022*. Black trans people are more likely to experience poverty, harassment, and unemployment. A study found that 41% of black trans people have experienced homelessness at some time in their life*. In addition to this discrimination, trans women are often misgendered in the media, directly fueling the ignorance that puts trans people in danger.
In the depth of this mourning for these trans women I appreciate the way Young provides them with a home. By placing these people amidst Young's former homes, he honors them and connects his story to theirs. In this new home, he gives us a chance to remember them and learn from their stories. Stay open and humble, listen to people who are different from you. In order to learn, diversify your media and seek voices that you don't hear often – diversify what you watch, listen to, and read. Learn about Black LGBTQ pioneers like Miss Major Griffin-Gracy, who worked as executive director of the Trans Gender Variant and Intersex Justice Project to advocate against incarceration and Ernestine Eckstein who was in the New York chapter of the Daughters of Bilitis and often the only black woman at early gay rights protests*. Use appropriate language in your home and at work. Donate or volunteer with Black and LGBTQ groups like Black and Pink Massachusetts who fight to abolish prisons. And, of course, vote in your local, state, and national elections to stop transphobic bills. Hold your loved ones close and cherish the time you have with them.
---
*https://studentaffairs.stanford.edu/about-vice-provost/student-affairs-initiatives/stanford-against-hate/fighting-homophobia
*https://www.aclu.org/legislative-attacks-on-lgbtq-rights
* https://www.hrc.org/resources/a-national-epidemic-fatal-anti-transgender-violence-in-america-in-2018
*https://www.thetaskforce.org/new-analysis-shows-startling-levels-of-discrimination-against-black-transgender-people/
*https://www.nbcnews.com/nbc-out/nbc-out-proud/black-history-month-17-lgbtq-black-pioneers-who-made-history-n1130856