Drifting Clouds: Audio Guide – What the Water Gave Me (After Frida)
February 15, 2023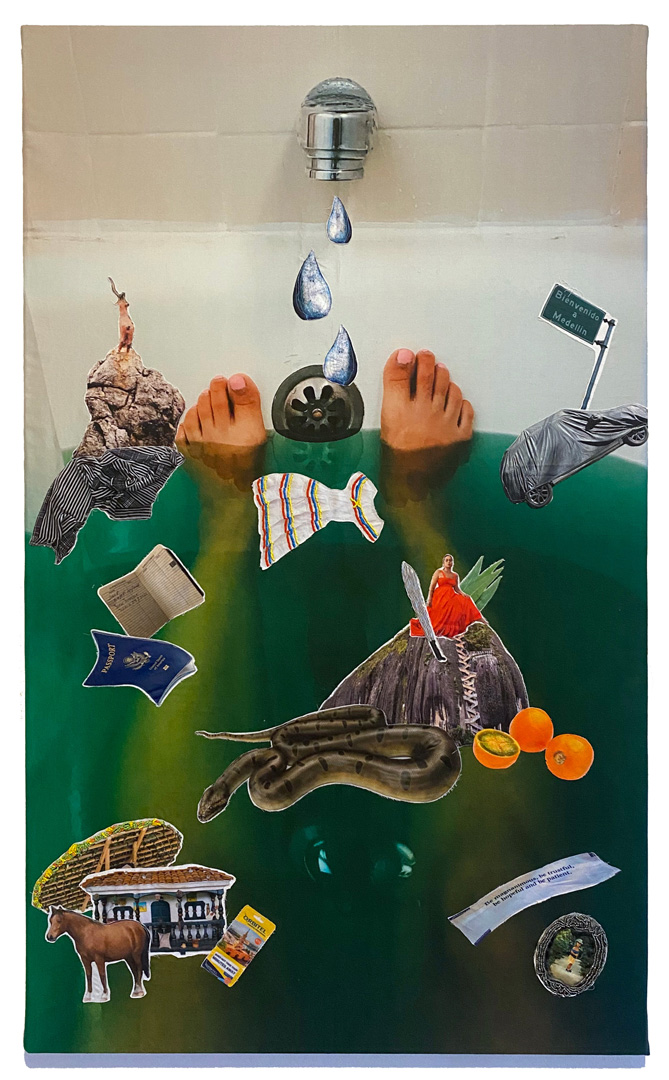 Script by Gallery & Curatorial Fellow Bella Santos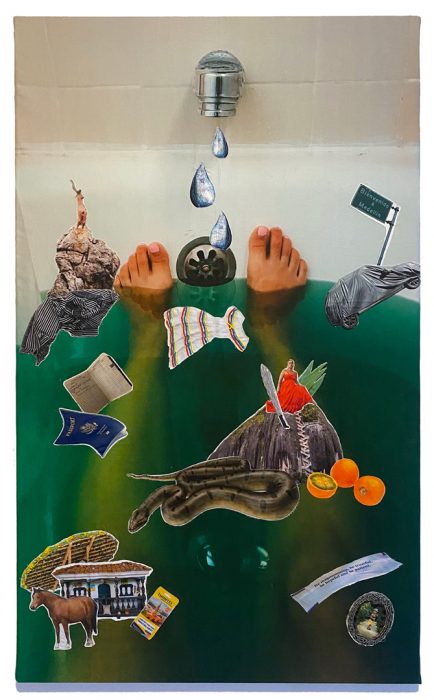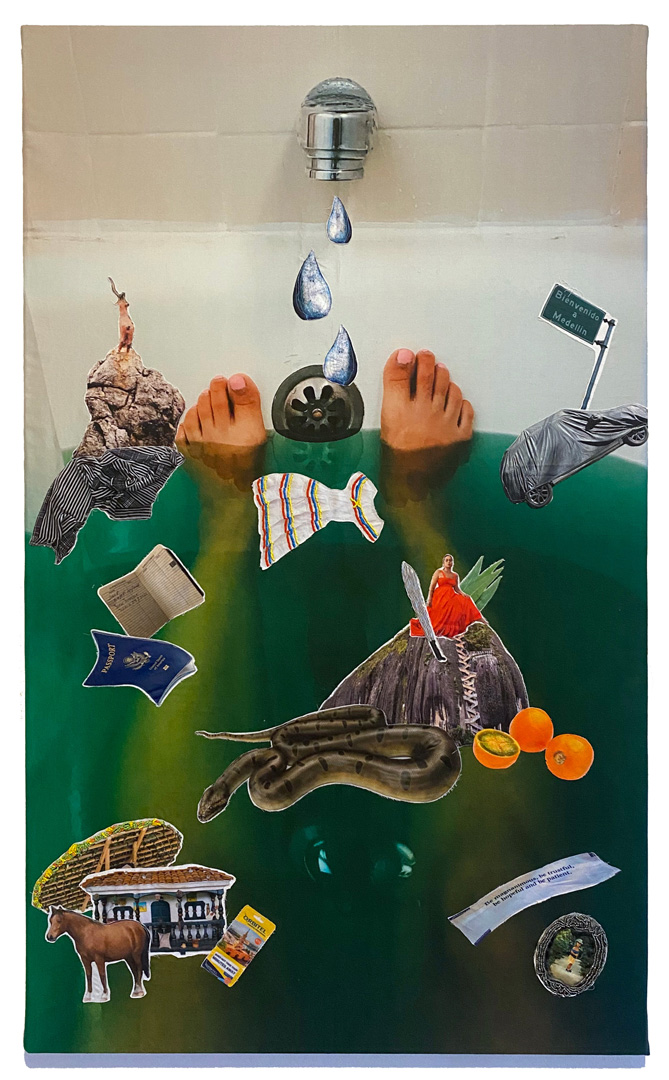 Transcript
Paola's artistic process can take anywhere between five years and five hours per piece. She tends to collect photos and images over the course of several years that coincide with her artistic language. When she plans out her collages she usually journals about what she wants the piece to express rather than sketching out the skeleton of the work. Oftentimes, Paola's work focuses on motifs of animal life and objects to express narratives surrounding migration, borders, and nostalgia. This work has many of her commonly repeated motifs such as the striped Pancho that's also in "Who Can Save Us," the small Colombian-style house that can be found in "El Desentierro (Unearthing)," and the passport that can be seen in "La Silla del Abuelo en el Barrio San Jose (Abuelos Chair in Barrio San Jose)."
However, in this piece, Paola immerses her physical self in her art. The background photograph was taken in 2017, during her move to San Francisco, California during a difficult time in her life. In the midst of her transition to San Francisco Paola was also beginning her therapy journey to unpack the ways that her past and upbringing had affected her. This piece is titled "What the Water Gave Me (after Frida). In this work, Paola reflects on the impact that the artist Frida Kahlo had on this piece and how it coincides with the place that Paola was in her personal life. Frida was someone who felt her emotions deeply and worked through her personal traumas with her art; Paola felt that Frida Kahlo relates to her in that way. Additionally, Frida Kahlo has a dual cultural identity, as she was of half Mexican and half European ancestry. Though Paola is ethnically Colombian, she often feels as if her cultural identity is split between Colombia and America. She finds herself feeling simultaneously connected and disconnected from those identities as she travels between each country. This theme of dual identity is explored via the artistic motifs in this piece and in many of Paola's other works as she explores the way that borders impact her understanding of herself.
Frida Kahlo lived for a time in San Francisco during her journeys in the United States, the same location where Paola created this work. Frida Kahlo's work is often classified as "surreal," which refers to an artistic movement that explores the subconscious of the human soul through other-worldly visual settings and motifs. However, Frida Kahlo often pushed back from this label because she felt that her work was staked in her very conscious emotional and traumatic realities. Paola feels similarly about the way that she uses "surrealism" in this piece.
Most of Paola's works do not feature distinct human figures because she wants to avoid exploiting the people of her past that informed her present work. However, In this work, there is an image of a distinct human, and it's Paola herself. Similar to Frida Kahlo, Paola orients the image of herself with a frontal view, with eyes open and staring directly at the viewer. How does Paola's relatability to the famous Frida Kahlo express the vulnerability of this piece in a way that some of her other works may not?