Pattern Language: Audio Tour — All Over Ode
November 2, 2022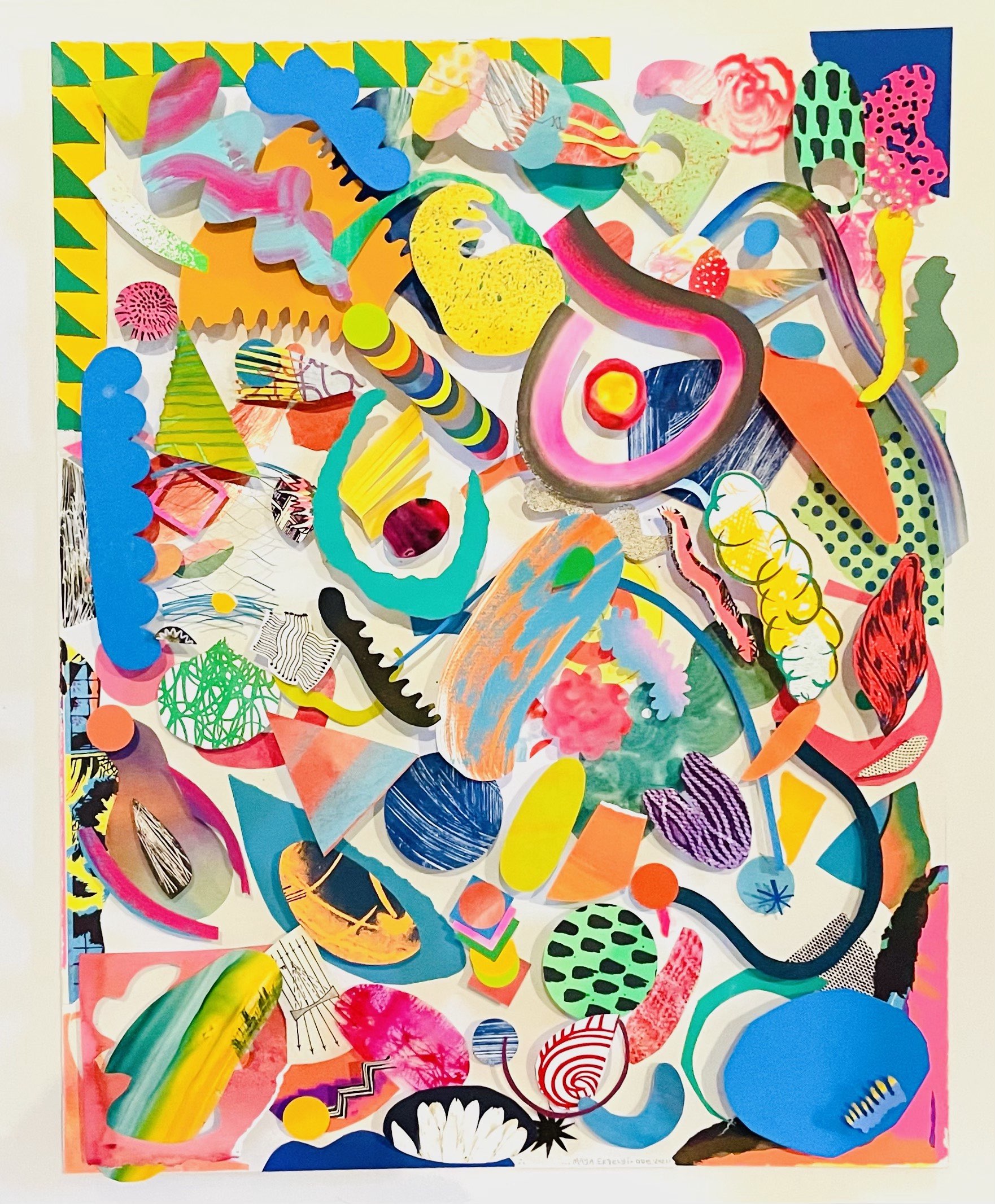 Script by Gallery & Curatorial Fellow Calla Savelson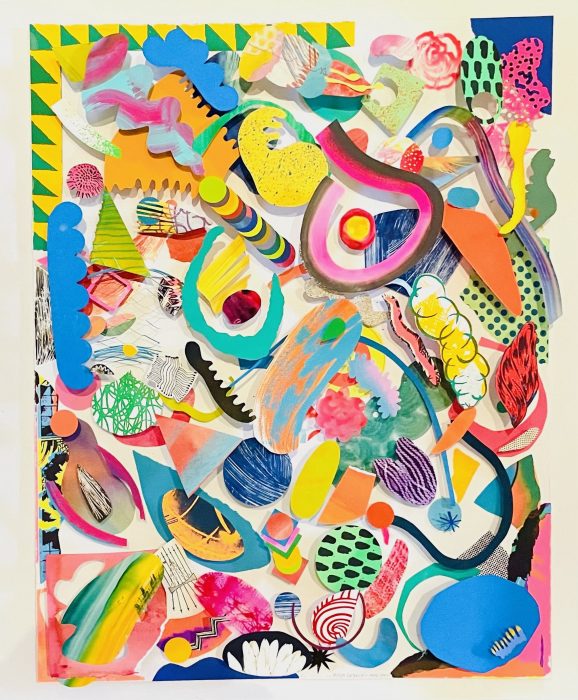 Transcript
In this piece, titled All Over Ode, 2022, Maya Erdelyi draws you in with her bright, contrasting colors, and wacky, unique shapes. This is one of the largest collages Maya is showing in her exhibition titled "Pattern Language," here in the Trustman. If you look closely, you can see the individual pieces of material layered deliberately on top of each other to create a sense of depth in the piece, as if the art is popping out at you. This effect creates a whole little world within the piece, that if we were small enough, we could explore and weave our way in and out of Maya's imagination.
"Pattern Language" is a very fitting title for this exhibition. If you take a moment to look around, you will see a plethora of different patterns, shapes, colors, and mediums (try not to miss the massive geodesic dome). But these physical patterns are not the only reason Maya titled this show "Pattern Language." Throughout her time in New England, Maya has collected and become fascinated with quilts. Many of these quilts are made by anonymous, women artists. What stories do they hold? What conversations were had as they were being created? What Language is embedded in the patterns? Take a look at the colorful, geometric mural painted on the back wall of the gallery. Do you see the quilt? Maya is actively thinking about the conversations and communities built during the creation process, specifically in patterned art such as quilts, collages, and specific to this exhibition, the geodesic dome. Art can be a very communal activity, creating a space for stories, laughter, and support. The eye-catching, colorful geodesic dome behind you is a perfect example of this. Gallery faculty, Simmons students, geodesic dome expert Peat Duggin, and Maya all worked together to create this 13 foot radius, enclosed hang out spot, that you are encouraged to step inside. I can assure you that stories were exchanged, laughs were had, and we each had to rely on each other in order get the job done.
Looking back to All Over Ode, I can't help but wonder what kind of language this collage holds. What conversations were had during its creation? What was the music Maya listened to in the studio? What kinds of feelings, from Maya or anyone around her did this piece capture, hold on to, and now emit to us as we view it?