Enter the Cúcala: Audio Tour—To Not Give a Mango's Damn
April 7, 2022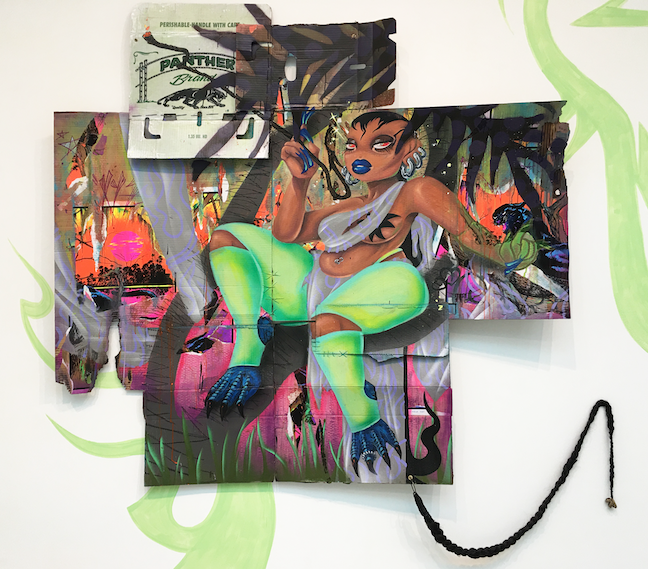 Script by Gallery & Curatorial Fellow Mae Blackwell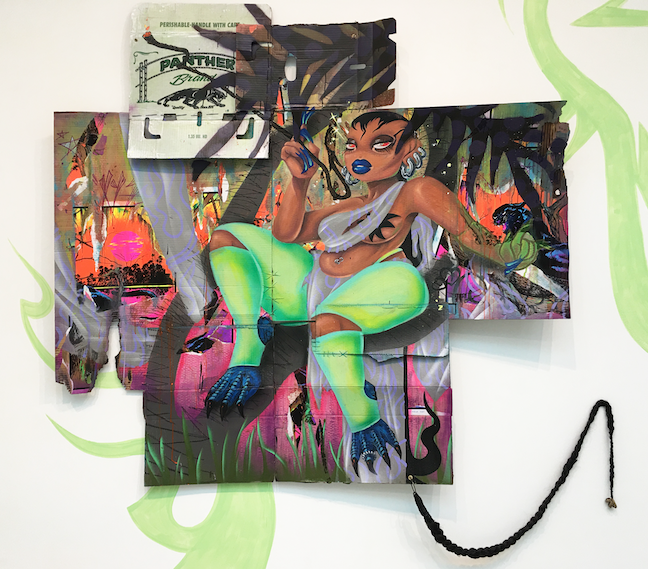 Transcript
As you can observe, Rixy prefers to work on unconventional surfaces, her background in sculpture and spatial awareness inspire her to work with mediums other than the typical paints and canvas. Her mediums have a life and past of their own; with every piece of cardboard or recycled item comes a story and trajectory that has led to its newfound purpose as an artwork.
In this particular assemblage, there is a fusion of materials layered onto each other and stitched together with string. At the top, you can see a flattened cardboard box that once transported produce. The image of the panther on the box connects to the panther on the right side of the piece emerging from an array of abstract gestures and colors behind the main female figure. If you look closely, you will see the velveteen texture of the panther, this blacklight poster material can be found in other areas of the painting as well. This is just one of the many provocative materials that Rixy has included in her work.
Another strong visual element in this piece is the braid that is hooked to the bottom of the painting and pinned to the wall. This aspect of the piece pushes the art from the constraints of the metaphorical canvas, or in this case the cardboard, and brings it to life in a sense. The braid creates a new relationship between the art and the space in which it resides. This feature is a reflection for Rixy's passion and interest in sculptural elements and spatial awareness.
Rixy particularly enjoyed her sculpture class during her time at UMass Boston. The concepts were presented to her and her peers in an unconventional, more sensory way. While observing sculptural designs she learned to ask herself "What are lights doing? What is sound doing? What are your feelings telling you?" This way of perceiving sculpture places the emphasis on how your body enters a space, rather than just passively looking at an object.
This teaching is very evident in her work, and has strongly informed her mural practice. Before starting the design or sketch for a mural, Rixy will just sit and observe the space and gauge interactions within the environment. She will touch the wall, note the direction of street and pedestrian traffic, where the light is coming from and how the birds sound. She is very careful not to disrupt the nature that may be in or around the area she is working with, she says "I want the design to complement the environment and feel like they grow together."
How can the objects and recycled materials in your everyday life be repurposed for creative use?
How does art connect to the community and the environment in which it is featured?
How do you feel when you are in this space, surrounded by Rixy's work?