Enter the Cúcala: Audio Tour—Gargola 1
April 7, 2022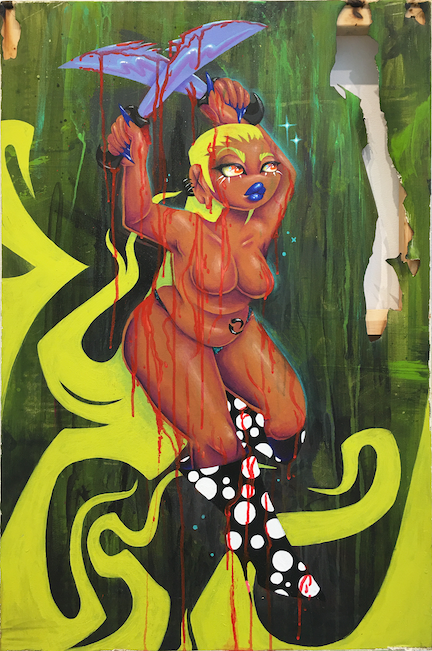 Script by Gallery & Curatorial Fellow Mae Blackwell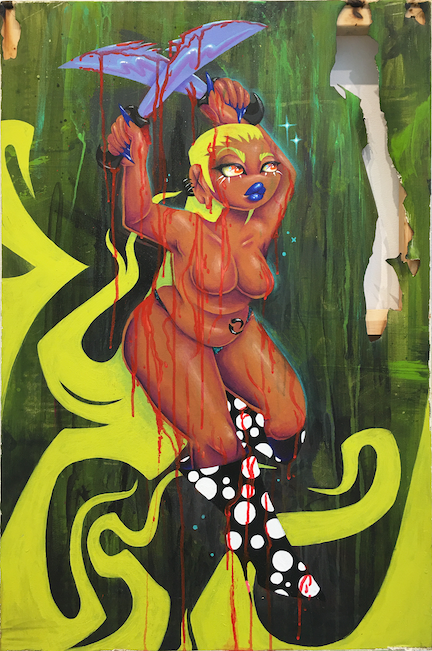 Transcript
You can observe in this piece that there are very distinct rips and burns in the canvas that call the viewer's attention first to the upper left corner then down the right side of the canvas. These imperfections are very intentionally placed, and just as important to the overall composition as the colors, shapes and designs. The character in this piece follows a trend Rixy explores in her work of depicting women of color, usually displaying their power and divinity while embracing their sensuality.
A large part of Rixy's process when creating a piece is experimentation and using what materials are in front of her. It is important to Rixy to be resourceful; as you can see, a majority of her works are made on upcycled materials such as cardboard and other surfaces that once served a different purpose. The way Rixy treats her materials is very intentional, she says that her materials can be "dangerous, soft, edgy and unique,"similar to herself and the characters she creates.
Rixy is not afraid for her paintings to gain a level of wear and tear as they travel through life with her. In transporting her pieces there is inevitable risk that her art will be bumped and bruised, but this is a welcome addition to the physical presentation of her work. Like the tattoos she wears on her body, Rixy sees the imperfections that collect on her art as a catalog of time and travel, and ultimately what they have been through since their creation.
What physical changes to you or your environment help you measure time? Is it the slow wilting of flowers? Your hair growing longer? Or the scrape on your knee healing? How do you measure time or memorialize an instant?